Bitcoin Rebounds in Struggle Retake $9,000, End Correction
(Bloomberg) -- Bitcoin erased an earlier loss on Thursday and looked headed to halt a three-day slide, as most digital tokens advanced.
The most-traded digital token edged higher to $8,822 as of 9:33 a.m. in London though failed to trade above the $9,000 level, according to consolidated prices compiled by Bloomberg. The Bloomberg Galaxy Crypto Index tracking a basket of cryptocurrencies also rebounded from an earlier 5.7% slide. Major tokens including Ether, Litecoin and XRP all reversed losses.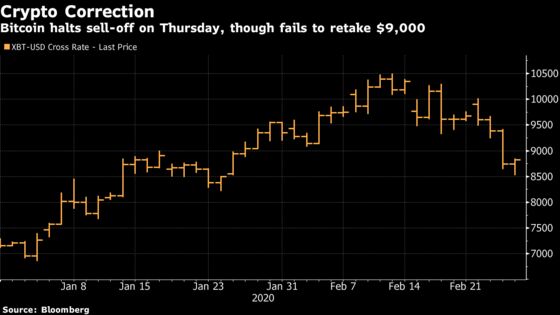 "We are currently seeing a correction underway," said Vijay Ayyar, Singapore-based head of business development at crypto exchange Luno. "Bitcoin's safe-haven status is arguably not yet very well-established. We're looking at an overall bearish environment given coronavirus fears and Bitcoin was bound for a pullback anyway."
Thursday's moderate rally is providing a pause to this month's correction in digital assets following their strong start to the year. Although Bitcoin climbed to a closing high for 2020 of $10,389 on Feb. 12, that level fell short of its 2019 high, which in turn lagged its peaks from the prior two years as well.
With few fundamentals to analyze in digital coins, traders look to technical patterns and resistance levels, such as "lower highs" and resistance at round numbers, such as $9,000 and $10,000.
XRP, the third-largest cryptocurrency, slumped almost 10% on Wednesday after Ripple Labs Inc. failed to persuade a judge to throw out a class-action lawsuit that the blockchain payment services provider said could topple the market for the token.