Bitcoin Bulls Who Lived by This Metric Now Dive With It
(Bloomberg Opinion) -- Bitcoin bulls are going to need a new reason to buy. The gauge that many said they were relying on suggests the price, even after falling below $5,000 for the first time in more than a year on Monday, has even further to drop, perhaps a lot.
A little more than a year ago, a number of crypto-converts came up with a Bitcoin equivalent of price-to-eyeballs, which was the infamous valuation metric that led investors astray in the dot-com bubble. For Bitcoin, that metric was NVT, or the network-value-to-transaction ratio. Some dubbed it Bitcoin's price-to-earnings ratio.
The satisfying idea behind the ratio, when few knew how to value digital currencies, was that the price of Bitcoin should be tied to its use. By this logic, Bitcoin becomes more useful as more people buy and sell stuff with it, so the currency should be worth more. Some people called this the network effect, and NVT tried to put a number on this. As the value of transactions — the T in the ratio — rises, so should the network value, or the total value of all Bitcoins. And if transactions were rising quickly, then that created all the more justification for a higher NVT, in the same way that fast-growing technology stocks often had high P/Es.
A year ago, the $8,200 price of each Bitcoin gave the currency, which was already up hundreds of percent that year, an NVT of 57. NVT had been nearly 200 in 2014 and nearly 350 in 2011, but Bitcoin use was tiny back then. The conclusion was that a NVT of 57 was quite cheap and thus the price of Bitcoin had room to run.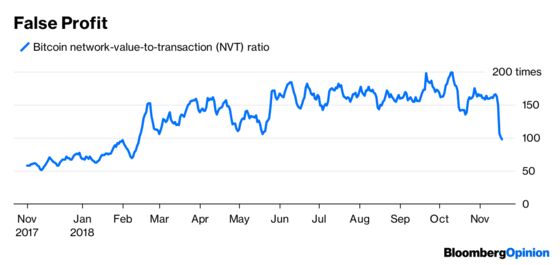 Since then, the price of Bitcoin briefly did shoot up to nearly $20,000, but it has since plunged. It fell nearly $700 in Monday's trading session to just under $4,800. At the same time, though, the NVT continued to rise. It was 160 a week ago, three times what it was a year ago, even though Bitcoin's price was down 20 percent. Monday's drop brings the ratio down to 90, still far higher than it was a year ago, despite the much lower price. For Bitcoin to get back to the "value" it was a year ago, it would have to fall an additional 37 percent to around $3,000. But because use as an actual form of payment is shrinking, not growing, perhaps the NVT should be lower than it was a year ago, indicating Bitcoin's price should drop even further.
Daily Bitcoin transactions averaged about $2.1 billion a year ago. Its seven-day average is less than half of that now and has been as low as $350 million recently, or down 80 percent from a year ago. Bitcoin may have lost its luster, but more likely those lofty transaction numbers weren't real in the first place. They were most likely pushed up by the frenzy of trading by investors and not an indicator that people were embracing Bitcoin to buy and sell things. What's more, it's not exactly clear that Bitcoins should be worth more just because they are used more. That happens with the dollar as economic activity heats up, but that could have more to do with interest rates, which also tend to increase when the economy is good, than transactions.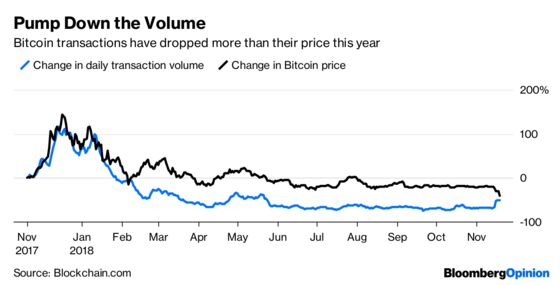 While the NVT ratio indicates that Bitcoin could drop further, some of the currency's adherents are pointing to other metrics. Thomas Lee, a prominent Bitcoin bull and strategist and co-founder of Fundstrat Global Advisors LLC, recently lowered his Bitcoin price target to $15,000 from $25,000. That's based on a multiple of what he thinks it will cost to create a new Bitcoin, not transactions. While it is certainly true that when the cost of creating Bitcoins drops below their price, people will stop producing them, it is not clear that the equation works the other way around.
Others are pointing out that Bitcoin's price is now well below what it was earlier this year and thus a buying opportunity. If you liked Bitcoin at $20,000, you are going to love it at $5,000. That kind of faulty investing logic will make you a bull all the way down to zero.
This column does not necessarily reflect the opinion of the editorial board or Bloomberg LP and its owners.
Stephen Gandel is a Bloomberg Opinion columnist covering banking and equity markets. He was previously a deputy digital editor for Fortune and an economics blogger at Time. He has also covered finance and the housing market.