Biotechs Hunting for Virus Treatment Extend $26 Billion Boom
(Bloomberg) -- Health-care firms searching for treatments and accurate tests for the coronavirus are extending a surge that has added more than $26 billion to their market value this week.
Gilead Sciences Inc., the largest company to see its share price jump in response to its plans to combat the virus, has added $9.7 billion to its value this week alone. Moderna Inc., a drug developer with an eye on a potential vaccine, extended a 90% rally to a record, adding more than $6 billion to its value this week.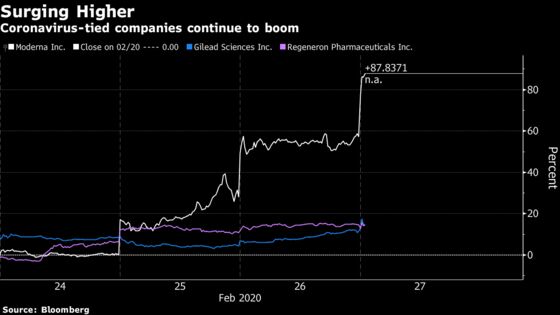 In all, more than $26 billion has been added to a group of companies ranging from big drug developers like Gilead and Regeneron Pharmaceuticals Inc. to lesser known names such as Vir Biotechnology Inc. and Co-Diagnostics Inc. Those small caps have jumped by more than 250% and 500% respectively this week.