Biogen's $20 Billion Slide Wipes Out Boost From Alzheimer's Drug
(Bloomberg) -- A rocky couple of months has completely erased gains for Biogen Inc. since its controversial Alzheimer's disease medicine won approval from U.S. regulators in June, dealing a $20 billion blow to the biotech company.
The drug developer has been struggling to sell the drug, Aduhelm, and according to a Stat News report, is considering cost-cutting measures including layoffs because of the weak demand. The stock has shed nearly a third of its value from a June peak and slipped 3.4% to trade at $285.40 at 10:08 a.m. in New York Wednesday.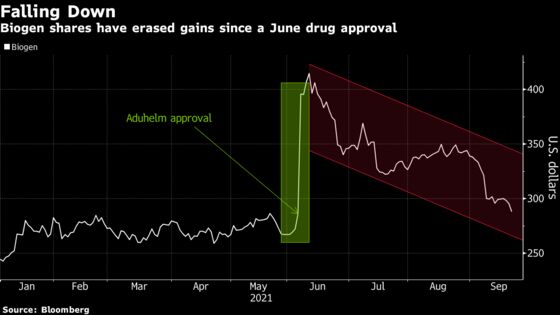 The drop marks the latest twist in Biogen's efforts to sell the first newly approved Alzheimer's therapy since 2003, as demand for the drug remains to be seen. The company has set a steep $56,000 annual price tag on the medicine.
Despite warnings from management on near-term hiccups, Wall Street analysts continue to see a massive opportunity for the therapy with expected sales of $9 billion in 2027.