Biogen Loses $7 Billion in Value on Slow Alzheimer's Drug Rollout
(Bloomberg) -- Biogen Inc. notched its longest losing streak in over two years after the biotech company confirmed Wall Street fears that the rollout of its Alzheimer's drug wasn't going as well as hoped.  
The stock fell for a seventh day on Thursday, solidifying a $6.6 billion loss after management said the introduction of Aduhelm was facing several challenges. The shares dropped 6.7% to $300.15 in New York. 
"The launch is slower than we initially anticipated," Chief Executive Officer Michel Vounatsos told investors Thursday at the Morgan Stanley Global Health Care Conference. The company's focus will not be on short-term revenue, but on Aduhelm data, infrastructure and reimbursement, he said.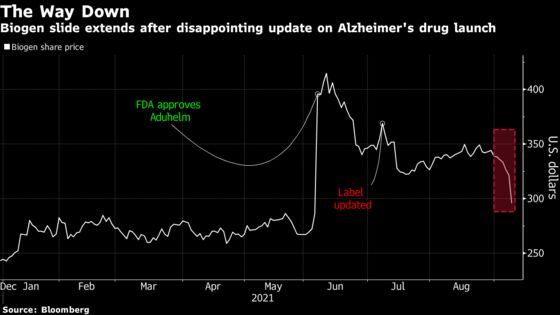 Only about 50 sites have been infusing the medication since June, well below company's prior target of 900 centers, according to RBC analyst Brian Abrahams. 
"Acknowledgment of the significant Aduhelm launch hurdles is unlikely to be a major surprise, and the stock is already now starting to reflect much more pessimism about Aduhelm uptake and competitive impact," Abrahams wrote in a note to clients. He sees little gains for Biogen ahead of a key Medicare decision on coverage.
Last week, leaders of two congressional committees pressed the Food and Drug Administration for more information on "apparent anomalies" in the agency's review of Aduhelm.