Biogen Alzheimer's Medicare Setback Shocks Industry, Patients
(Bloomberg) -- The U.S. government's preliminary decision to pay for Biogen Inc.'s new Alzheimer's disease drug only in very limited circumstances gave fresh fuel to a long-running fight over whether the treatment's cost is worth its disputed benefits.
Patient advocates and Biogen responded with shock and dismay after the Centers for Medicare & Medicaid Services tightly restricted coverage of Aduhelm, which the drugmaker had initially priced at $56,000 a year. It has since cut the price in half. 
But insurance companies skeptical of the therapy cheered the move, as did lawmakers including Vermont Senator Bernie Sanders, who had criticized the price as a symptom of larger problems with high drug costs.
With millions of patients suffering from Alzheimer's and few treatments for the memory-destroying condition available, some experts feared high demand for Aduhelm could cause deep financial strains for the U.S. health system. 
That unease was compounded by controversy over whether the drug actually delivers meaningful benefits for patients. The Food and Drug Administration approved it over the objections of its scientific advisers, and told Biogen to do another trial, while giving the company years to complete it.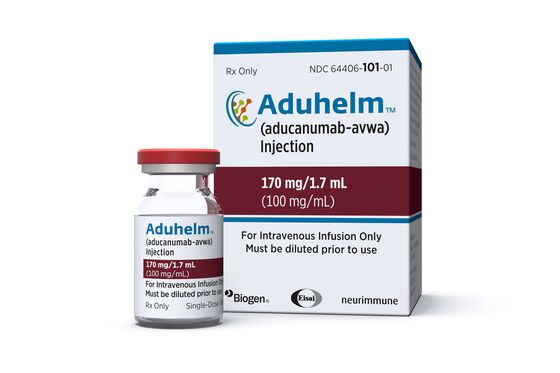 The contentiousness intensified Tuesday as Medicare, the U.S. health program that covers the vast majority of older Americans who are at greatest risk of Alzheimer's, said it will only pay for the drug when patients are enrolled in approved clinical trials. The preliminary decision is scheduled to be finalized April 11 after a comment period. 
Biogen shares fell as much as 9.5% Wednesday, and developers of similar drugs also slid, with Eli Lilly & Co. declining 4%. 
The stringent rules announced by CMS apply to all antibody-based drugs that, like Aduhelm, target amyloid plaques, the sheets of abnormal protein that accumulate in patients' brains. 
"Alzheimer's patients are not going to have access to any drug in this space" for years to come, said George Vradenburg, chairman and co-founder of the UsAgainstAlzheimer's advocacy group. "I'm mad as hell."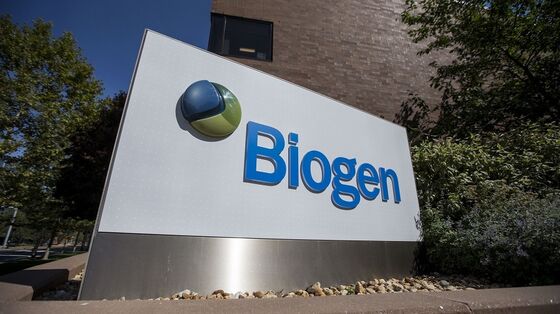 Biogen's shares have seesawed wildly since the company abandoned Aduhelm's development in 2019, revived it with FDA encouragement later the same year, received news of a negative panel decision in 2020 and gained approval last year. The company decried the CMS proposal, saying that Aduhelm's reduction of amyloid shows that it affects the underlying pathology of Alzheimer's disease. 
"Given typical trial enrollment numbers, this denies access to nearly all Medicare beneficiaries living with Alzheimer's disease," Rachid Izzar, a Biogen executive vice president, said in an internal email to employees that was reviewed by Bloomberg. "This draft decision can still change, and we believe a more positive outcome is possible." 
In the email, Izzar cited the 30-day-public comment period and said that groups such as the Alzheimer's Association had already come out strongly against the preliminary decision. "And we expect to see more," he wrote.
CMS said its analysis found that, while Aduhelm could help patients, the effect of clearing amyloid from the brain remains uncertain. The drug also may cause side effects including headaches, dizziness, falls and even brain bleeds, according to a statement. 
"Our foremost goal is to protect beneficiaries from potential harm from an intervention without known benefits," Lee Fleisher, CMS chief medical officer and director of the Center for Clinical Standards and Quality, said on a call with reporters. 
Expected to follow Medicare's lead on the drug's coverage, insurers applauded CMS's direction. 
"This is the right approach," said Adam Myers, senior vice president and chief clinical transformation officer for the Blue Cross Blue Shield Association. "Collecting and analyzing more data on Aduhelm will provide much-needed insights into the drug's safety and effectiveness."
Doctors are desperate for new treatments for Alzheimer's and other forms of dementia. Cases are expected to triple worldwide to 153 million by 2050, according to a study from the University of Washington's Institute for Health Metrics and Evaluation in Seattle. Yet the lack of evidence the product works is reason enough to hold off on widespread use, said Caleb Alexander, an epidemiologist at the Johns Hopkins Bloomberg School of Public Health's Center for Drug Safety and Effectiveness.
"Why should Americans be on the hook for the costs of this product, and why should patients be exposed to it, when it is not clear whether or not it even works?" said Alexander, who served on an FDA advisory panel that considered Aduhelm. CMS's proposal aligns with "hospitals, health systems and insurers all across the country who have rightly declined to deliver or cover the product until it becomes clear that it is actually safe and effective."
The clinical effects of Aduhelm, also known by the generic name aducanumab, have long been in doubt. Biogen's studies conflicted on whether its slows decline in brain function compared with a placebo, and there's still no proof that amyloid plaques, the focus of its activity, play a significant role in causing Alzheimer's. 
A panel of outside advisers to the FDA recommended against the drug's clearance, yet the agency granted an accelerated approval based on Aduhelm's ability to clear amyloid from the brain. Three panel members, including Johns Hopkins' Alexander, left the committee in protest. Drug authorities in the European Union and Japan have also spurned Aduhelm. 
Now it appears that Medicare has also sided against the FDA, where President Joe Biden's nominee for director, Robert Califf, faces Senate hearings this week. The CMS move suggests intra-agency discord within the Health and Human Services Department with implications for other drugmakers with plaque-clearing Alzheimer's drugs. 
Those include Lilly, which hopes to launch donanemab, this year, and Roche Holding AG, expecting late-stage data from gantenerumab in 2022. Biogen and Japanese partner Eisai Co. are also working on another drug with a similar mechanism, lecanemab.
"This decision appears to render accelerated approval on plaque clearance somewhat meaningless," JPMorgan analysts led by Cory Kasimov said in a note to clients. 
For now, it appears that despite its approval, Aduhelm's prospects are distinctly bleak, according to RBC Capital Markets analyst Brian Abrahams. He cut his price target on the stock to $225 a share from $243 and excluded any meaningful Aduhelm revenue from his model of the company's performance. 
Other than Biogen, it is difficult to envision anyone "who might convincingly advocate for broader access to the drug without more data," Abrahams wrote in a note to clients.