Billionaire Wiese Takes Blow as Brait Struggles With Losses
(Bloomberg) -- South African billionaire Christo Wiese received more bad news as a company in which he's the biggest shareholder reported a decline in the value of its investments alongside higher borrowings.
Brait SE, in which Wiese owns a 35 percent stake, said net asset value was 57.32 rand at the end of March, compared with a restated 77.63 rand a year earlier, with retailer New Look struggling amid a sales slump on the U.K.'s shopping streets. The company's other assets include fitness chain Virgin Active and supermarket chain Iceland.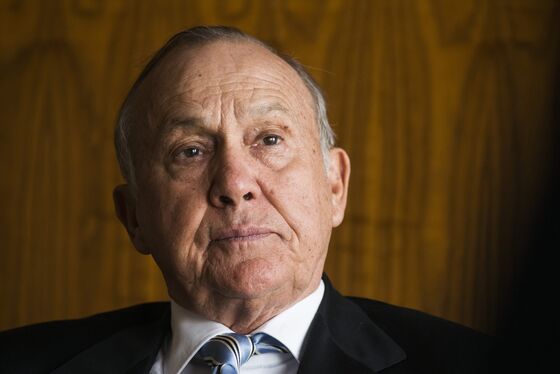 Wiese's net worth plunged when Steinhoff International Holdings NV, in which he was the largest investor, reported accounting irregularities late last year. While Brait is unrelated to the scandal-hit clothing and furniture retailer, its stock has slumped 41 percent over the past 12 months, reducing the value of Wiese's Brait stake to about 7 billion rand ($479 million). The 76-year-old is now worth about $2.3 billion, according to the Bloomberg Billionaires Index, compared with $5 billion before the Steinhoff scandal erupted.
Brait shares lost as much as 6 percent before reversing to gain 3.4 percent by the close in Johannesburg. The company decided not to declare a dividend and rather focus on reducing its debt, it said in a statement Tuesday. Borrowings climbed 77 percent to 4.7 billion rand.
Wiese quit as a non-executive director of New Look last month and as non-executive chairman of Brait South Africa Pty Ltd., citing time constraints as he gears up for a legal battle with Steinhoff. He's suing the owner of Conforama in France and Mattress Firm in the U.S. for 59 billion rand.
Wiese has this year sold shares in Shoprite Holdings Ltd., Brait and Aspen Pharmacare Holdings Ltd. to raise cash. The billionaire's stake in Steinhoff was cut to about 6 percent earlier this year, from 20.5 percent, after banks sold stock put up by the former chairman to secure margin loans.
According to Tuesday's statement, he's also sold a special-purpose vehicle which carried 1.4 billion euros ($1.6 billion) of debt to Brait for a notional sum. That debt is now guaranteed by Brait rather than Titan Premier Investments Pty Ltd., another Wiese company.
Wiese is also the largest shareholder in South African investment company Invicta Holdings Ltd., which on Monday said annual profit fell 23 percent and that it's in discussions with South Africa's tax agency over payments. The shares of that company have slumped 27 percent this year.