Billionaire's #MeToo Case Adds NDAs as a Tool Against Media
(Bloomberg) -- Peter Hain dramatically took to the floor of the House of Lords Thursday to say Philip Green was the billionaire behind an injunction that blocked the publication of an article about "discreditable conduct" related to the #MeToo scandal.
But the 68-year-old lawmaker's intervention demonstrated how the cards are often stacked against the U.K. media in battles with the rich and famous. In cases about the criminal investigations and more mundane extramarital affairs, courts routinely issue orders limiting the press.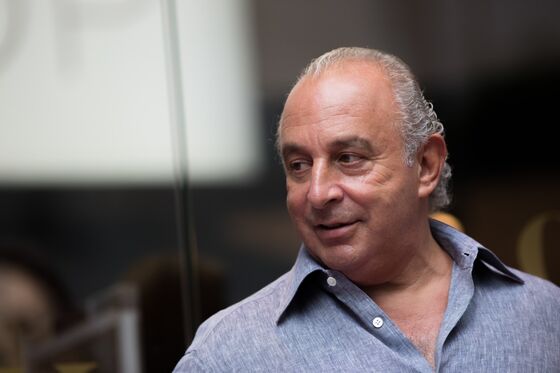 In the Court of Appeal ruling earlier this week, judges added a new tool to the arsenal of lawyers: non disclosure agreements. The court blocked the Telegraph newspaper from writing a story about a "leading businessman" because some of the people who'd made accusations against him had signed settlements with clauses that prevented them from talking about the claims.
NDAs are often used as "unethical tools, and the only way we're going to stop them is by people being named," said Zelda Perkins, a former assistant to Harvey Weinstein who signed an NDA in 1998 with Weinstein and the film production company Miramax.
Stories about Weinstein's treatment of women triggered the #MeToo movement a year ago and Perkins hailed Hain's step to identify Green, the billionaire owner of the Topshop clothing chain.
The Telegraph article was about a British businessman accused of sexually harassing and racially abusing his staff. Green, of fashion empire Arcadia Group Ltd., denied the allegations in an emailed statement sent from a spokesman.
"To the extent that it is suggested that I have been guilty of unlawful sexual or racist behavior, I categorically and wholly deny these allegations." Arcadia Group Ltd., sometimes receives employee complaints, as do many businesses, he said. "In some cases these are settled with the agreement of all parties and their legal advisers."
Hain is an adviser to Gordon Dadds, the law firm that represented the Telegraph in the injunction case, according to the firm's website. A Gordon Dadds spokesman said Hain was a "self-employed consultant who provides occasional advice." Hain didn't get any information from Gordon Dadds about the case, he said.
Non disclosure agreements had been in the spotlight for weeks before Green's injunction made headlines.
Prime Minister Theresa May told parliament this week, before Green was named, that some employers were using NDAs "unethically" and the government would seek to improve regulation around them.
That came weeks after Megan Butler, an executive director at the Financial Conduct Authority, stressed in a letter to the MP Maria Miller that "so called 'gagging orders' do not affect an individual's ability" to tell regulators about sexual harassment.
"The use of injunctions to stifle a free press is a sign of how money can buy you privacy in this country," said Jane Martinson, a journalism professor at City University in London. "There's phalanxes of highly paid corporate lawyers trying to stop journalists" from writing about their clients, she said.
While NDAs may be criticized, courts have long had wide discretion to issue orders against the media.
Earlier this year, pop icon Cliff Richard won a ruling that severely limited the press's ability to cover the early stages of a police investigation against celebrities. A London judge said the the British Broadcasting Corp. shouldn't have identified the singer during a report on a 2014 police raid on his home following allegations of child sex assault about 30 years ago.
It's not the first time Parliamentary privilege -- which dates back to England's 1689 Bill of Rights -- has been used to skirt court orders. In 2011 John Hemming, a member of parliament, twice took to the floor of the House of Commons to name soccer player Ryan Giggs and former Royal Bank of Scotland Group Plc Chief Executive Officer Fred Goodwin, as a way around privacy orders obtained by the men.
Hugh Tomlinson, who represented Giggs and Goodwin, said on Thursday that Hain's naming of Green is "highly regrettable" and that the peer had "abused his parliamentary privilege."
Court orders on confidentiality are circumvented in this way "from time to time," said Tomlinson, who isn't involved in the most recent case. That doesn't mean they're not worthwhile, he said, because that would be like saying burglar alarms aren't worthwhile since "people can always break into houses anyway."