Billionaire Knicks Owner Dolan Awarded $50 Million This Year
(Bloomberg) -- James Dolan is on track to join the ranks of top-paid public-company executives in the U.S. less than a year after taking over as CEO of Madison Square Garden Co.
The overlord of the Garden, the Knicks and the Rangers will be awarded compensation worth about $50 million for the year ending June 30, according to a regulatory filing Thursday. Most of the pay is composed of stock options that will yield value only if the share price reaches certain thresholds.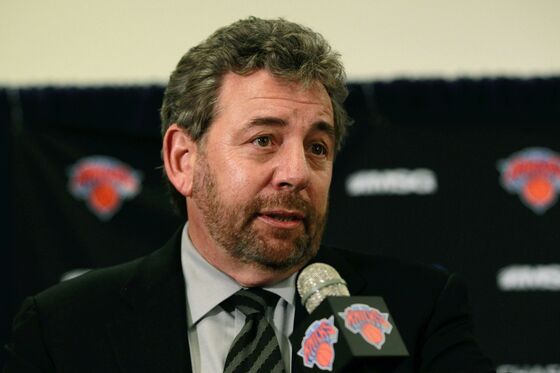 Dolan, 63, part of the family of cable TV tycoons that acquired the Garden in 1994, took over as chief executive officer in November after his predecessor David "Doc" O'Connor left unexpectedly. Since then, the stock has climbed more than 30 percent amid plans to spin off the sports franchises and stronger revenue from concerts and live events.
MSG is also moving forward with plans to create live performance venues in Las Vegas and London called MSG Sphere.
Dolan's new employment contract entitles him to $12 million in annual compensation, including salary, annual bonus and long-term incentive. This year, he'll also get special awards valued at $40 million. A quarter of those are restricted shares that vest only if performance goals are met. The rest are stock options with strike prices ranging from about $300 to $375. The shares slid 2.6 percent to $300.85 at 1:29 p.m. in New York.
The contract "represents significant confidence in the future of MSG," Kim Kerns, a company spokeswoman, said in an emailed statement. "Under Jim's leadership, MSG has generated significant value for shareholders."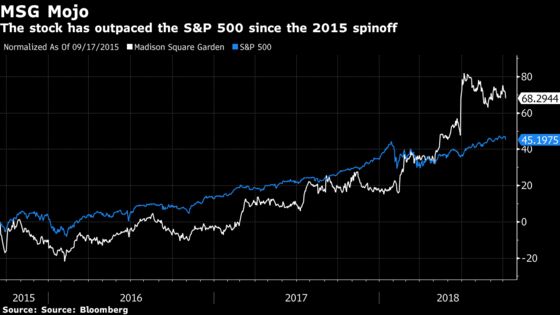 A pay package worth about $50 million probably would make Dolan one of the 30 best-paid executives at a U.S. public company, according to the Bloomberg Pay Index.
Scott Sperling, co-president of private equity firm Thomas H. Lee Partners, and Vincent Tese, who for two decades sat on the board of Dolan-controlled Cablevision Systems Corp., make up the compensation committee of MSG's board and are responsible for setting the CEO's pay.
The Dolan family controls the board through a dual-share class structure. Several family members, including James's 91-year-old father Charles, are directors. Former CEO O'Connor received a compensation package worth about $55 million when he was named to the post in 2015.