Bill Gross Says He Sought Peace in Text to 'Peeping Mark'
(Bloomberg) -- Billionaire Bill Gross testified that when he promised his neighbor "nightly concerts" in a text message he was just trying to get the man to stop behaving like a peeping Tom and broker peace between them.
In what may have been the pivotal moment in the monthslong fight between the warring property owners, Gross took the witness stand in a Santa Ana court Monday to recount his version of the dispute with Mark Towfiq, a tech entrepreneur who claims the billionaire began blasting loud music -- including the theme song to "Gilligan's Island" -- after Towfiq filed a complaint with the city about about netting that covered a million-dollar artwork in Gross's yard.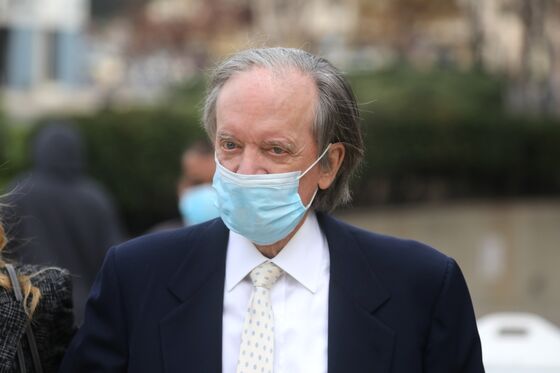 When Towfiq texted Gross's partner Amy Schwartz to turn down the music at 11:45 p.m. on July 31, Gross responded, writing: "Peace on all fronts or we'll just have nightly concerts Big Boy."
"You wanted Mr. Towfiq to drop the art complaint, correct?" Towfiq's lawyer, Chase Scolnick, asked.
"I don't recall that," Gross said.
He insisted he never played the music loudly, keeping the volume below 60 decibels -- about the volume of a normal conversation. That contradicted earlier testimony from Towfiq and Laguna Beach police who said they heard loud music coming from the billionaire's home.
"We were having arguments because Mr. Towfiq was taking pictures of Amy Schwartz and us and invading our privacy," Gross said. "When I wrote this message, I was trying to solicit a friendly 'peace' environment in which he would stop taking pictures and stop peeping into our backyard in our pool."
Gross said he viewed Towfiq's behavior as "dangerous," adding, "We called him 'Peeping Mark.'"
A Laguna Beach police officer and a city official testified earlier that when they spoke to Gross and Schwartz about Towfiq's noise complaints, they offered to stop playing music if he withdrew his complaint about the netting over the artwork.
Gross grew indignant when Scolnick played a video Towfiq made earlier this year, in which the billionaire appears to be leaning against a wall abutting their properties with a device in his hand. Rapper 50 Cent can be heard while Gross appeared to be swaying to the music. Suddenly the music switches to "Gilligan's Island."
"I think that this video is the most damning piece of evidence for for you that I can imagine," Gross said. "Because it shows several minutes of Mr. Towfiq harassing me, suggesting that I'm on something, suggesting I'm doing something strange. Mr. Towfiq was obviously taking a video, not to take music and demonstrate the loudness, but to show to somebody how strange I was acting."
Gross is scheduled to complete his testimony Tuesday.
Each of the neighbors wants a restraining order, with Towfiq seeking to end the music. Gross and Schwartz want the judge to order Towfiq to stop harassing them by recording and photographing them.
Judge Kimberly Knill said she expected the hearing to wrap up Wednesday with closing arguments from lawyers representing Gross and Towfiq.
Earlier Monday, Schwartz testified she never played the music too loudly.
"Do I play music?" she asked rhetorically. "Yes. I don't play music loud."
But she admitted the "Gilligan's Island" theme played often.
"'Gilligan's Island,' I love that song," Schwartz said.
Schwartz was asked if she and Gross played the music on a loop -- that is, with one song playing repeatedly.
"I don't know how to work a loop," she said. She also said Gross was the one who controlled the audio and TV in the house.
Schwartz doesn't know how to use the remote to turn off the TV, Gross said in his testimony.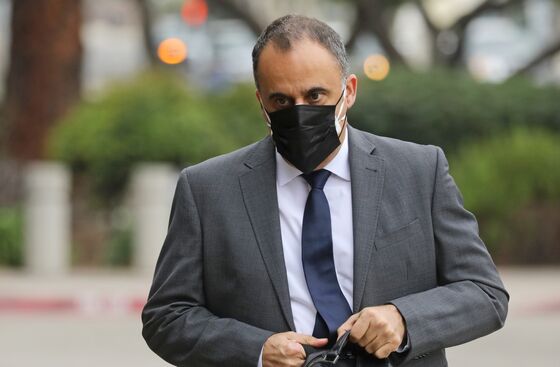 Scolnick showed Gross a letter the billionaire sent the city asking it to reconsider an order that he remove the sculpture. Gross said he didn't remember writing the letter.
"Do you have any problems with your memory, sir?" Scolnick said.
"At 76, I have less of a memory than at 26," he said.
Scolnick asked if it was true that Gross "wasn't happy" about Towfiq's complaints.
"Happiness and sadness are not applicable to these types of situations at my age," Gross replied. "I'm just happy to be standing."