Big Philippine Retailers Find Diversification Drag Amid Pandemic
(Bloomberg) -- SM Investments Corp. supermarkets in Metro Manila have drawn queues of customers each day since the Philippines imposed a lockdown to contain the coronavirus outbreak on Luzon island, the nation's economic engine and home to most of its population. Yet the demand for staples won't offset losses from its other shuttered stores, analysts say.
The Philippines retail giant Robinsons Retail Holdings Inc. and SM Investments have been forced to close department and specialty stores amid the lockdown. Both companies' shares are down at least 16% this year, while those of Puregold Price Club Inc., which focuses only on supermarkets, were up 4.2% this year, fueled by a 43% rally since March 19.
"Investors are switching their retail holdings to Puregold," Rachelle Cruz, an analyst at AP Securities Inc., said in interview. "Pure supermarket plays and less diversified retailers face better prospects as discretionary spending is cut and will take time to recover even when the lockdown is over."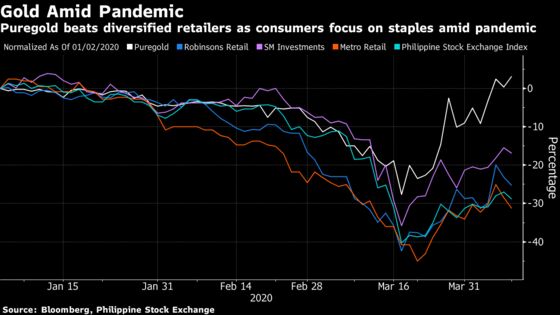 The mid-March domestic quarantine and global disruptions leave the Philippines facing its first possible recession since 1998. With consumer spending accounting for 70% of the nation's gross domestic product -- and Luzon's 60 million people contributing much of that, the government predicts a full-year economic contraction of as much as 0.6% in the absence of mitigating measures if the impact of the virus extends to June. Restrictions on Luzon were extended Tuesday until the end of this month from April 12 due to sustained growth in virus cases.
Consumer demand has weakened across the Philippines, even though the lockdown isn't nationwide, according to Teresita Sy-Coson, vice chairman at SM Investments, owner of the nation's biggest retailer and shopping mall operator. There are "fewer buyers in stores nationwide" and online buying is limited.
SM will miss its 2020 retail sales target and Sy-Coson is "hopeful" of a second-half rebound on expectations consumer spending picks up as restrictions are eased. This year's expansion plans have been postponed, she said.
"Customers are few and sales are low," Sy-Coson said in an email. While SM stores are able to fill shelves everyday, Sy-Coson's biggest worry is "how to keep up with changes" that social distancing and a prolonged lockdown may provoke in consumer behavior.
A V-shaped recovery in household spending is unlikely as the virus erodes consumer confidence, said Cristina Ulang, an analyst at First Metro Investment Corp. Higher sales posted by retailers of essentials amid the lockdown won't last and revenue would be lower than last year even if restrictions are eased as people will remain wary without a vaccine to mitigate risk of infection, according to Ulang.
"Everybody is on liquidity and balance-sheet management mode," Ulang says. "Where will you get volume if the risk of infection keeps consumers subdued?"