Biggest Nordic Bond Bank Nordea Sees M&A Spurring Issuance in 2022
(Bloomberg) -- Companies from the Nordic region that need to sell bonds in volume next year will have to keep a close watch on changes to monetary policy.
That's the view of Nordea Bank Abp, the region's biggest bond arranger in 2021, which said being able to dodge central banks' tightening plans by front-loading issuance will be the key challenge for those coming to the primary market.
"Issuers will be keen, wherever feasible, to come to market early to stay ahead of rising rates," Povl Bak-Jensen, head of syndication at Nordea Markets, and Antti Saha, the bank's head of debt capital markets, said in an emailed response to questions. "We are expecting another busy year with more M&A activity leading to more bond issuance."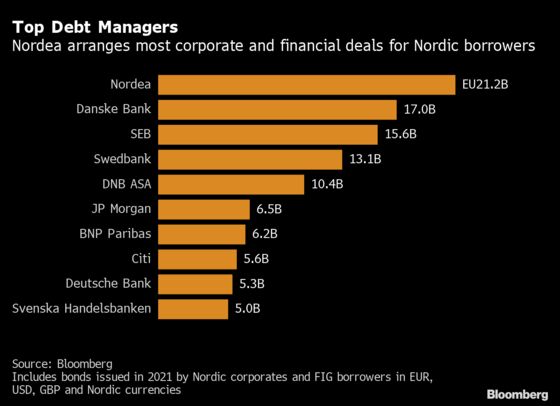 Record-breaking 2021 saw "extremely active" companies funding acquisitions and the real estate sector swelled, the bankers said. 
In Sweden, the region's biggest corporate market, there has been a spate of bridge or intermediary financings in recent days to help fund multi-billion cross-border acquisitions, suggesting business in the bond market will be brisk going into next year. 
Deals that may spur bond sales in the near term include the take-private of grocer ICA Gruppen, Securitas AB's takeover of a U.S. business, Embracer Group AB's acquisition of Asmodee and BillerudKorsnas AB's buyout of Verso Corp.
Nordic property companies that in 2021 flocked to the euro bond market for bigger debt deals than available domestically will also continue to be a key driver for new supply, said Linus Asu, a syndicate banker at Danske Bank A/S. 
A wave of consolidation in the sector has made many real estate issuers too big for the domestic market, according to Asu.
Nordic companies, including the real-estate industry, raised a total of 65 billion euros ($73 billion) equivalent of debt in 2021. That's 8.5% more than a year before and a new issuance record, according to data compiled by Bloomberg. 
Euro-denominated issuance rose by 30%, reaching 37 billion euros. When taking into account financial borrowers, issuance across local and main currencies came to 194 billion euros, up 3% from a year earlier.  
As markets begin to normalize and "the better part of the general spread rally" looks to have played out, issuers should brace for tougher investor scrutiny, Nordea's Bak-Jensen and Saha said. 
"This type of market backdrop will only further increase the focus on environmental, social and governance structures, such as social, sustainability-linked and green bonds," they said.