Amazon Threat Fails to Damp Biggest IPO in Chilean History
(Bloomberg) -- Plaza SA raised $533 million in the biggest initial public offering of shares in Chilean history as investors shrugged off the threat to the shopping mall operator from online retailers such as Amazon.com Inc.
The company, better known as MallPlaza, sold 240 million shares at 1,431 pesos each. That beat holding company Inversiones La Construccion SA's $458 million IPO in 2012. The shares fell 2 percent to close at 1,402.7 pesos Friday after they were priced above analyst recommendations of 1,400 pesos. The IPSA stock index slid 1.3 percent.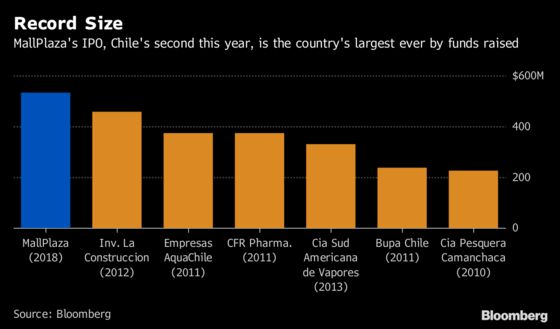 The IPO succeeded at raising a record amount even as Amazon moves deeper into Latin America, threatening to erode brick-and-mortar revenues. The Bloomberg Intelligence index of MallPlaza's North American peers is down 10.7 percent in the past year. With operations in Peru, Colombia and Chile, MallPlaza has been changing its mix, adding more entertainment, luxury stores and restaurants to compete against e-commerce.
The largest allocation was sold to local institutional investors, who bought 41 percent of the shares, the company said in a filing to regulators. Retail investors got 17 percent, while Chile's $200 billion pension funds only received 14 percent.
"In the effort to maximize proceeds, some investors were punished," said Guillermo Araya, an analyst at brokerage Renta4. "At these price levels, the company is a buying opportunity."
Banchile Corredores de Bolsa will act as market maker on the shares, the Santiago exchange said. That's positive as it will boost liquidity, countering the stock's low 12.5 percent float, Araya said.
The company said in December that minority shareholders planned to list between 10 to 15 percent of the shares to cash out on part of their positions. No new shares were sold and controller SACI Falabella didn't reduce its 59 percent stake.
MallPlaza currently operates 21 malls and is building two more in Colombia. Total revenue in 2017 was about $430 million and earnings were $340 million. BTG Pactual, Banchile and LarrainVial handled the local sale while JPMorgan, Morgan Stanley and Goldman Sachs were in charge of the international portion.
Part of MallPlaza's allure for investors is that it operates in some of the countries in the region that should post the fastest growth this year, and at the same time aren't exposed to foreign exchange or political volatility, like Argentina or Brazil, Araya wrote in a note earlier this month.
Among local brokers, Renta4, Bci Corredor de Bolsa and Tanner Servicios Financiero had suggested paying up to 1,400 pesos per MallPlaza share, while BICE Inversiones had suggested up to 1,423 pesos.
MallPlaza also appears to be well managed, with the backing of Falabella, which has the highest sales per square meter of any Chilean retailer, Renta4 said. The mall operator also has the highest Ebitda margin and funds from operations, BICE said in a note. It has stable revenue as 88 percent of its top line is tied to long term and inflation adjusted rental contracts.
The company will look to continue expanding, while broadening its range of services, said Fernando de Pena, MallPlaza's executive vice president.
"What comes next is bringing our proposal to more Chileans, Peruvians and Colombians," Pena said.