Biggest Economies' Climate Policies Fall Short of Paris Goals
(Bloomberg) -- The world's biggest economies are falling behind on commitments to cut greenhouse gases fast enough to limit global warming.
Despite a number of world leaders making broad commitments to slash emissions recently, more detailed policies are falling short on delivering on the goals of the Paris climate agreement, according to an analysis of 19 countries' policies by BloombergNEF.
"The high-level pledges over the last year, in particular, have been impressive with major economies such as the European Union, Japan, South Korea and China all promising to get to 'net-zero' emissions or carbon neutrality at some future date," said Victoria Cuming, head of global policy analysis for BNEF. "But the reality is that countries simply haven't done enough at home with follow-through policies to meet even the promises made more than five years ago."
BNEF scored the countries based on 122 metrics related to the number, robustness and effectiveness of policies that each country implemented. Germany and France topped the charts, but their decarbonization policies still weren't enough to be on track to deliver their Paris goals.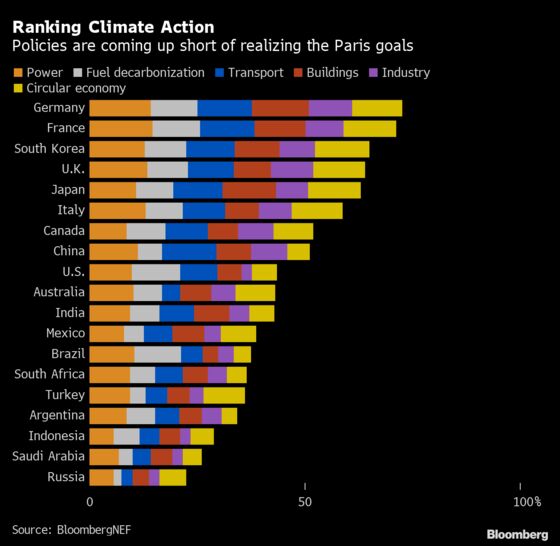 Climate goals are only effective if they are both ambitious and realistic, BNEF found. Saudi Arabia has set a goal for renewable power production that's so high it's essentially meaningless. The country aims to have 27.3 gigawatts of renewable power by 2024, but had 0.4 gigawatts installed at the end of 2019.
Effective policies can help push decarbonization technologies to the commercial stage from the research stage.