Big Twitter Options Bet Sees Shares More Than Doubling by 2020
(Bloomberg) -- As today's sell-off in Twitter Inc. pushed the shares toward their worst November since 2015, someone in the options market was betting big that the social-media stalwart was on track for a major comeback.
One investor appears to have bought almost 85,000 of the January 2020 $70 strike calls, which implies a 125 percent rally from current levels. Four separate blocks of contracts ranging in size from 10,000 to 24,850 were bought for 55 cents versus open interest of 6,371.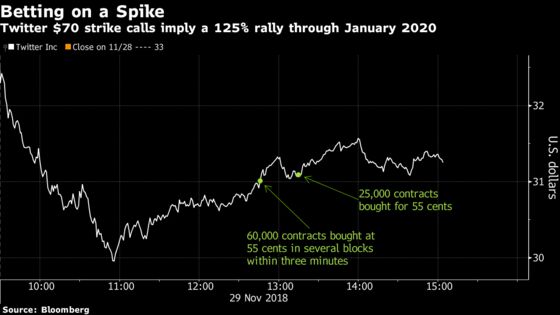 The relatively large position in calls with the highest-listed strike price appears to be an outright purchase and not linked to any other trade.
Twitter fell as much 8.7 percent to $29.87 today, putting it on track for a monthly decline exceeding 10 percent. The shares have lost about a third of their value since this year's closing high of $46.76 in June as technology stocks bore the brunt of the U.S. stock market's sell-off.
Today's total Twitter options volume is almost 4 times the 20-day average with calls outnumbering puts by 3.5-to-1.