Big Bankruptcies Vanish for Longest Period Since Pandemic Hit
(Bloomberg) -- U.S. bankruptcy courts are in their longest quiet period since before the pandemic hit, by one measure.
Zero firms with at least $50 million of liabilities have filed for bankruptcy, according to data compiled by Bloomberg as of yesterday. That's the longest such stretch since September of 2019, when Forever 21 Inc. snapped an 11-day streak.
Massive fiscal stimulus, a brightening economic outlook and wide-open credit markets have improved the prospects of companies hammered by the Covid-19 pandemic. The pace of big bankruptcy filings has trended downward since the middle of last year, when five or more new filings per week was common.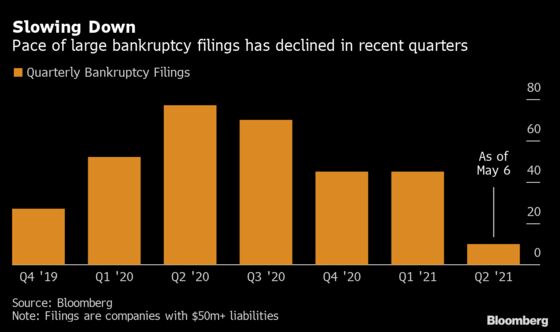 "Large companies are flush with cash," said Philip Brendel, a distressed-debt analyst at Bloomberg Intelligence. "Liquidity is one reason why companies file, the other is insolvency, and as long as there is hope these companies can grow their earnings and enterprise value above their bloated balance sheets, they likely won't go in for that reason."
The lull is likely no surprise to investors who specialize in betting on troubled companies. The pile of bonds and loans trading at steep discounts -- one proxy for corporate distress -- has shrunk to below $100 billion from a pandemic high of close to $1 trillion, according to data compiled by Bloomberg.
Secure Home Holdings, which provides home and commercial alarm systems, was the last large company to seek bankruptcy in the U.S. It filed for Chapter 11 protection in Delaware on April 25.