Big Bank Earnings Are Less Than Meets the Eye
(Bloomberg Opinion) -- Bank earnings have mostly failed to impress investors this year. But it turns out the profits are even less impressive than they appear.
How much less? In all, the nation's six largest banks reported an income increase of $6 billion in the third quarter. But 83 percent of that was earnings manufactured by either booking one-time gains, reversing prior losses or paying less in taxes thanks to this year's corporate rate cut. Strip all that out and the big banks' bottom line boost from improvements in their actual operations was $1 billion. That's just 5 percent more than the same three months a year ago and far less than the 31 percent growth in earnings per share, which also includes a boost from buybacks, that the banks reported.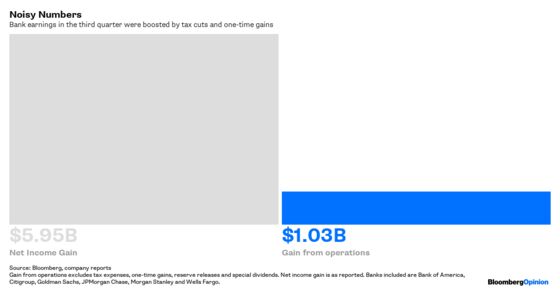 Wells Fargo & Co., perhaps unsurprising given its recent problems, has the biggest gap between what it reported as earnings growth, which was cheered as a sign of improvement, and the profits its operations produced. The bank said its net income rose $1.3 billion, or 32 percent, from the same quarter a year before. But that included a $638 million gain from the sale of a group of pre-financial-crisis-type loans that Bloomberg Businessweek once called Nightmare Mortgages, as well as $100 million in profits from shrinking its loan-loss reserve. On top of that, Wells Fargo's effective tax rate dropped to 20 percent for the quarter from 32 percent a year ago, saving the bank hundreds of millions more. Subtract all that, and Wells Fargo's adjusted operating earnings fell in the third quarter, by $200 million, or 5 percent.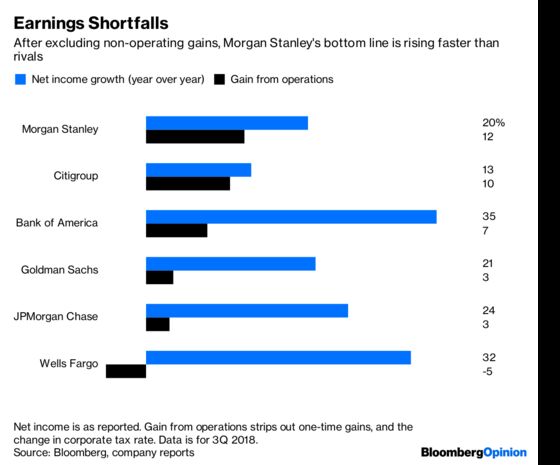 In terms of impressing investors, Goldman Sachs Group Inc. and Morgan Stanley were the exceptions in the third quarter. Shares of those two banks climbed 6 percent and nearly 9 percent, respectively, since they reported earnings early Tuesday. But even their bottom lines were less flush than at first appearance. Strip out gains from this year's corporate income tax cut, as well as a one-time gain from retiring preferred securities, and Goldman's earnings growth drops to 3.3 percent, a fraction of the 21 percent the bank reported. Morgan Stanley, for its part, did have the best earnings growth of the big banks at 12 percent excluding non-recurring and non-operating items, but it was still a good deal less than its 20 percent reported net income growth.
More than half of the non-operating boost came from the tax change, which saved the nation's six biggest banks $3.3 billion in the third quarter alone.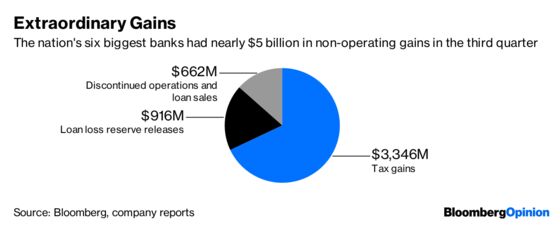 But the fact that so little of the big banks' earnings increase in the third quarter, just 17 percent, seems to be coming from, say, higher sales or lower costs raises the question of why the nation's largest lenders and financial firms aren't doing better in the best economy in a decade. There are numerous possible answers. Part of the reason is most likely the flat yield curve, which has limited lending profits. Plus the housing market, despite the rest of the economy, appears to be relatively weak; mortgage lending profits have remained subdued. For the Wall Street firms, the shift toward index investing and automated trading has limited their brokerage profits. But banks are still a central part of the U.S. economic infrastructure, no matter what the Bitcoin believers would like. So if the banks aren't doing as well as they appear, it's likely the economy isn't either.
This column does not necessarily reflect the opinion of the editorial board or Bloomberg LP and its owners.
Stephen Gandel is a Bloomberg Opinion columnist covering banking and equity markets. He was previously a deputy digital editor for Fortune and an economics blogger at Time. He has also covered finance and the housing market.