Biden's State Rescue Steers Most to California, Texas, New York
(Bloomberg) -- America's state and local governments are poised to receive a $360 billion lifeline from President Joe Biden's stimulus bill, enough to virtually assure that budget cutbacks and public-employee layoffs won't weigh on the economic rebound.
The states' fiscal recovery fund will guarantee at least $500 million for each and the District of Columbia. The bulk will be divvied up -- as needed -- according to the share of unemployed workers in each state. That means the largest states will receive the most, as is typical for federal funding programs based on population.
California's state government could be eligible for about $26.1 billion, more than any other state, with another $17 billion available to local governments there, according to preliminary estimates from the Government Finance Officers Association, a lobbying group. Texas stands to get the second most, with almost $17 billion for the state alone, followed by New York and Florida.
More than half the states would get less than $3 billion each, according to the analysis, with just $910 million for Montana.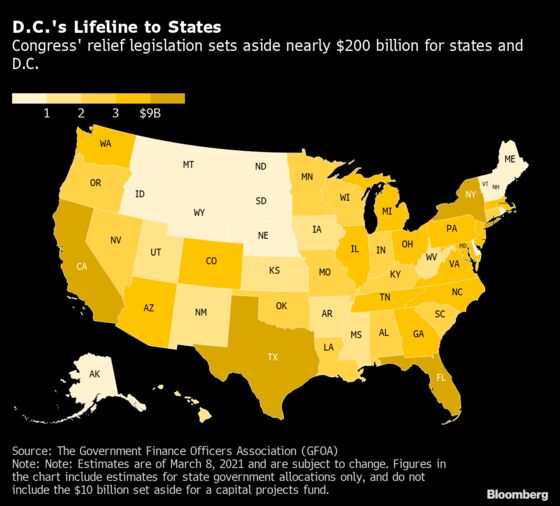 The money is likely to be more than enough to address the tax losses states have suffered because of the pandemic. That leaves open the potential for states to request the funds for pandemic-related costs and to offset the economic impacts of the recession, as provided for in the legislation.
Governments are awaiting further clarity from the federal government about the allocations and the use of the funds. Treasury Secretary Janet Yellen said at a virtual National League of Cities event this week that her agency would be "going to work to get this aid out as in the quickest way possible -- and the one that produces the greatest impact."