Biden Leads USA Today/Suffolk Iowa Poll; Sanders, Buttigieg Next
(Bloomberg) -- Joe Biden leads the Democratic field in Iowa, according to a USA Today/Suffolk poll, with 25% support. Bernie Sanders was second at 19%, followed by Pete Buttigieg in third at 18%.
It's a better result for the former vice president than an NYT/Siena survey out Saturday, which showed Sanders in first and Biden trailing Buttigieg in third place. Elizabeth Warren was fourth and Amy Klobuchar fifth in both polls.
Yet taken together, both surveys show a fluid Democratic field a week before Iowa caucuses. RealClearPolitics, aggregating recent surveys in Iowa, showed Biden and Sanders essentially tied ahead of the USA Today survey's release.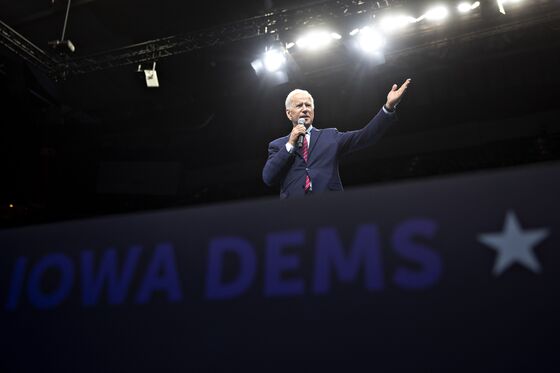 Under Iowa's unique caucus system, voters' backup plans could be decisive. If a candidate doesn't reach 15% support in a local area, they aren't considered viable, their votes won't tally and supporters are encouraged to pick someone else.
Yet there's no clear indication where the supporters of lesser-polling candidates might wind up. Three quarters of those supporting a candidate outside the top five were undecided about their next choice.
The USA Today/Suffolk poll surveyed 500 likely Democratic caucusgoers from Jan. 23-26, with an error margin plus or minus 4.4 percentage points.