Bid to Cut U.K. Disability Spending Has Failed, Watchdog Says
(Bloomberg) -- A reform designed to bring down spending on disability benefits in the U.K. has failed, according to the Office for Budget Responsibility.
Introduced under the premiership of David Cameron in 2013, personal independence payments were meant to cost 20 percent less than the benefit they replaced -- the disability living allowance. Instead, as of 2017-18, they were costing as much as 20 percent more, with the roll-out only two-thirds complete.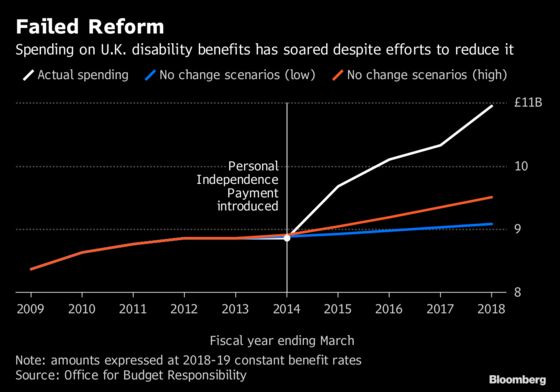 "PIP was originally intended to save money relative to DLA, but it has not," the OBR said Tuesday. "As a result, spending on disability benefits has exceeded our forecasts, often by large amounts. We no longer expect PIP to generate savings."
The overshoot means the government is spending an additional 2 billion pounds ($2.6 billion) a year to help disabled people meet extra costs, making it harder to curtail the overall welfare budget.