Amazon Nabs Toy Sales From Walmart, Target
(Bloomberg) -- Retailers are scrambling to attract holiday toy shoppers now that Toys "R" Us is kaput. But they may have already lost many of them to Amazon.com Inc.
A consumer-spending survey by Stifel analysts found that Amazon was the preferred destination for toy purchases among Walmart Inc., Costco Wholesale Corp. and Target Corp. shoppers. Those consumers also favored the online giant for electronics -- another key holiday category -- along with sporting apparel and footwear, the survey found.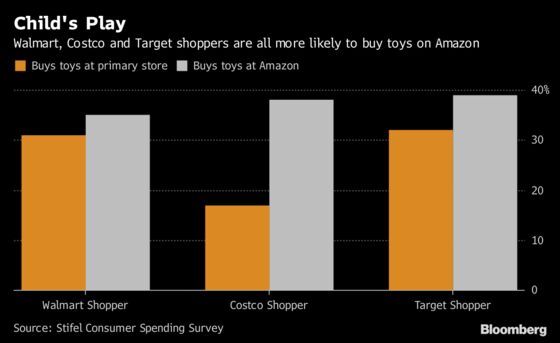 The findings illustrate the threat Amazon poses to traditional retailers, who have all bulked up their toy lineups to attract shoppers looking for Fingerlings and Legos. Retailers are expecting strong holiday sales this year, fueled by rising consumer confidence. More than eight out of ten shoppers expect to spend the same or more this year, according to a survey by PricewaterhouseCoopers.