Beyond Meat Stock Surge Pushes Market Value Past $5 Billion
(Bloomberg) -- Beyond Meat Inc. bulls are clearly in control this week, with shares surging for a fourth consecutive day.
The stock rose as much as 11% on Thursday, rising to $98.78 at 12:19 p.m. in New York. The rally, with gains in eight of its 11 days as a public company, has pushed the alternative-protein maker's market value above $5.5 billion, and extended its post-IPO surge to 275%. The faux-meat maker's value is rapidly approaching the $7.2 billion market capitalization of a more traditional meat supplier in Pilgrim's Pride Corp.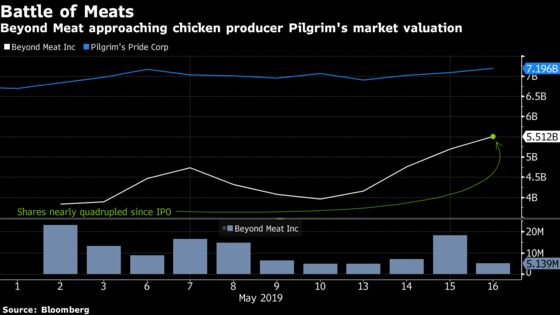 A surge in bearish bets has not stopped buyers from loading up on Beyond Meat shares, and the skeptics are paying up for the privilege. New shorts are getting filled with a borrow fee around the 65% level, with mark-to-market losses approaching $100 million with today's move, S3 Partners' Ihor Dusaniwsky said in an email. Short interest stands at 43% of shares outstanding on Thursday and the recent IPO is now among the top 20 most-shorted U.S. companies, S3 Partners data show.
Beyond Meat is the second-best performing IPO in the U.S. this year, only trailing Shockwave Medical Inc., according to data compiled by Bloomberg. It has raced ahead of this year's highly anticipated debuts, leaving Uber Technologies Inc. and Lyft Inc. behind. Both ride-sharing firms remain in negative territory since coming to market, down 6.7% and 24%, respectively, since their IPOs.