Bets Against Treasuries Build in Defiance of Uncooperative Data
(Bloomberg) -- A robust short base has formed in the Treasury market, expecting an economic recovery, and it's willing to overlook data points that contradict its preferred narrative.
"Investors seem to take the view that what matters is that the U.S. economy is recovering, rather than worry too much about the precise strength of the recovery at any particular moment in time," Bank of America strategist Ralf Preusser said in a note. Positioning has become a "sea of uncertainty," he said.
Response to the weak U.S. employment report for April, released May 7, was a case in point. Bank of America's FX and Rates Sentiment Survey for May -- which polls 70-80 institutional investors who combined manage more than $1 trillion -- found that duration underweights increased over the month. Similarly, in JPMorgan's Treasury client survey, short positioning is most stretched since 2017.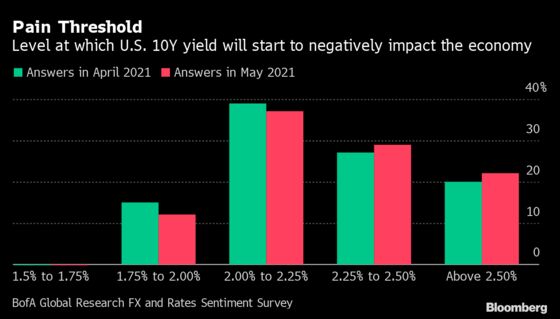 Consistent with that, the Bank of America survey also detected a rising pain threshold for Treasury yields, with 51% saying the economy can tolerate a 10-year yield up to 2.25%, up from 47% in the April survey.
Related Story: Fund That Made 929% on Equities Crash Targets Big Short in Bonds
A bearish stance on U.S. rates -- which Bank of America advocates -- also was reflected in the survey's findings on when the Federal Reserve is likely to signal a reduction in the pace of its asset purchases. More than half expect it will happen by the central bank's September policy meeting.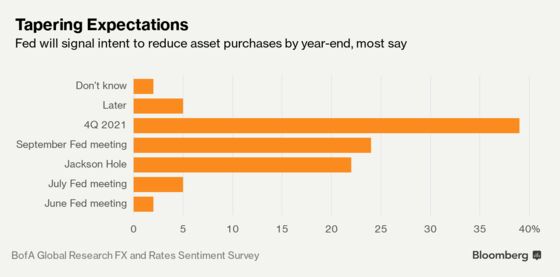 A similar mindset has been on display in the eurodollar options market, where last week's stand-out trades included a large new position in Jul21 mid-curve puts targeting an increase in Fed hike premium priced into 2023 futures. The position was expanded during Monday's session. Earlier this month, another large eurodollar position appeared to anticipate a significant policy shift occurring at the annual Jackson Hole conference in August.
Read more on how bank strategists assess the inflation outlook
Current eurodollar futures pricing suggests the Fed will raise rates for the first time around March 2023, with a second increase by September of that year.