Best Hope for Italian Bonds May Be Populist Coalition's Collapse
(Bloomberg) -- As Italy digs in to resist European Union demands for budget moderation, some investors say only one thing can reverse the government's spiraling borrowing costs: the collapse of the populist administration.
The coalition's determination to ramp up spending has pushed the yield on Italian bonds to highs not seen since the euro-area debt crisis. As long as the nation's leaders remain defiant, market pressure is likely to keep rising, says Christoph Rieger, Commerzbank AG's head of fixed-rate strategy in Frankfurt.
"A government collapse should be the main hope for markets at this stage," Rieger says.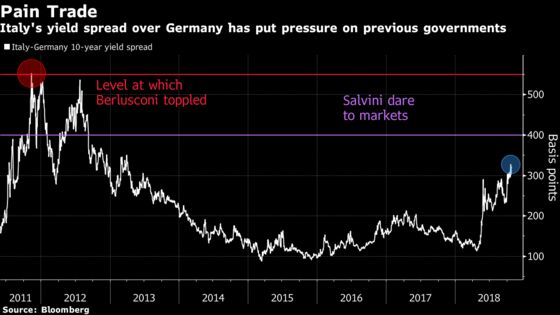 While a snap election would bring renewed chaos to Italy's turbulent politics, it would also derail the uncomfortable amalgam of right- and left-wing populist policies that is placing such strain on public finances -- Cabinet Undersecretary Giancarlo Giorgetti said Wednesday that bank bailouts may come into play again if the 10-year spread crosses 400 basis points.
The period before another vote might even provide investors with breathing room to profit from some of the euro area's highest yielding bonds. And afterward, polls indicate that the nationalist, pro-business League is likely to emerge as the biggest winner.
"While the post-election prospects don't look much better, the fiscal and economic risks from a League-led government would be smaller," Rieger said.
Frictions emerged between the two coalition partners when the government attempted to reconcile the League's desire for tax cuts with Five Star's commitment to a basic income for the poorest. The coalition partners suffered their first public fight last week, when Five Star leader Luigi Di Maio accused his counterpart Matteo Salvini of secretly sweetening a tax amnesty proposal.
The two deputy premiers patched up their differences at a cabinet meeting on Saturday, but that doesn't alter the structural tension within the coalition: Di Maio won almost twice as many votes as Salvini in March's election but has been consistently eclipsed since then as the League established a consistent lead in opinion polls.
Although Salvini has repeatedly insisted he wants the coalition to see out its full five-year term, he's the most likely beneficiary if it were to break down.
Italy's bond yields have surged versus those of Germany, as investors price in the coalition's 2.4 percent deficit target for 2019. That's brought back memories of the soaring yields that helped topple Silvio Berlusconi's government in 2011 amid the euro-area debt crisis.
Goldman Sachs warned this week that markets may have a role to play again this time, and that more pressure will be required before the government changes its policy.
Still, the prospect of a fresh government in the euro area's second-most indebted country may not be all rosy for investors. Salvini has repeatedly bashed the EU during the budget process and the head of the lower house budget committee Claudio Borghi said this month that the euro was "not sufficient" to solve Italy's fiscal issues. Any push toward exiting the common currency is seen as the biggest Italian risk for markets.
Salvini has said that he's "absolutely sure" the 10-year yield spread won't touch the key 400 basis-points threshold, signaling to investors that it could be the level his government begins to come under serious strain. The gap touched 341 basis points last week and was hovering around 310 basis points on Thursday. Moody's Investors Service downgraded Italy to one notch above junk last week, with S&P Global Ratings due to give its verdict Friday.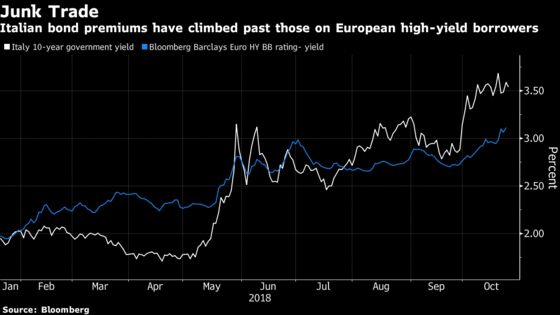 For AllianceBernstein money manager John Taylor, who helps oversee $540 billion, any change in government would boost the prospects for Italian bonds -- and he doesn't expect to have to wait too long.
"This was the worst case scenario, so anything has to be better," he said. "The most stable Italian government doesn't last that long, let alone a coalition that is from one extreme to the other."