Best Buy's Spending to Fight Amazon Comes at a Cost to Profit
(Bloomberg) -- Best Buy Co.'s turnaround journey only gets harder from here.
The retailer, which is rolling out new offerings to grab more of its customers' spending, faces a suite of challenges: tougher year-ago comparisons, the continued encroachment of Amazon.com Inc. and the cost of launching a new tech-support program. The consumer spending boost fueled by the recent tax cuts in the U.S. is also likely to abate in the months ahead, muting shoppers' demand.
"While the tax benefits will remain for some time, they will likely become less pronounced as the year progresses -- especially so now that gas prices are on the rise," Neil Saunders, Managing Director of GlobalData Retail, said in a note to clients. "Best Buy will need to continue evolving and adapting and must find new ways to serve the customer and drive sales."
Best Buy's shares fell as much as 8.2 percent on Thursday, the biggest intraday decline since September, after the retailer held its full-year guidance steady following better-than-expected quarterly results, disappointing watchers who'd anticipated a boost.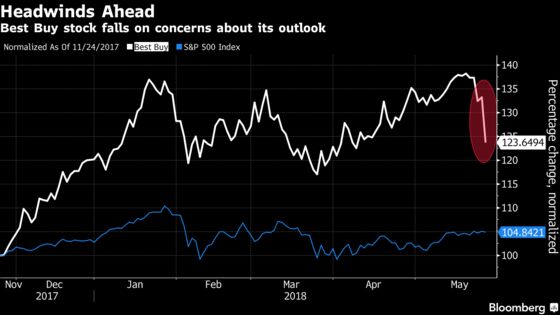 "Expectations going into today had increased materially," Chief Executive Officer Hubert Joly said on a call with reporters, addressing the share decline. "The fact that we didn't raise guidance, I feel, is probably a factor. But this is not a short-term game we are playing."
The company forecast adjusted earnings per share of 77 cents to 82 cents in the current period compared with analysts' average estimate of 82 cents.
Concerns about Best Buy's outlook overshadowed solid earnings for last quarter. Same-store sales in the U.S. rose 7.1 percent, more than double analysts' estimates and the biggest first-quarter jump since 2004.
The retailer's online revenue growth decelerated, though, to 12 percent, which is slower than the overall pace of U.S. e-commerce expansion, according to researcher eMarketer. The company said that was partly because last year's numbers were boosted by the launch of the Nintendo Switch gaming system and Samsung's Galaxy S8 smartphone, which were predominantly bought online.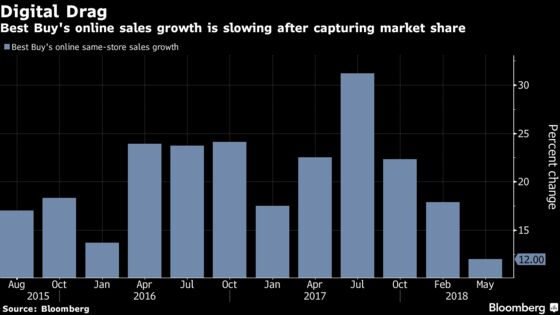 Joly, now in his sixth year at the helm, is trying to stave off Amazon and capture additional revenue by pushing its brand deeper into Americans' homes. This week, the company unveiled a "total tech support" program that covers any gadget you own for $199 a year, and it's sending hundreds of salespeople out to do free in-home consultations, where they'll recommend everything from routers to refrigerators. It has also partnered with Amazon to sell TVs powered by the internet giant's Fire operating system.
The company's expanded service push "is a smart way of both serving and building relationships with consumers," said Saunders of GlobalData Retail, noting that it could open up several new revenue streams for the retailer. Best Buy has said that it currently only captures 26 percent of its customers' technology spending, and wants to increase that share.
But the cost to get it ramped up will hit the bottom line. Chief Financial Officer Corie Barry said the U.S. rollout of total tech support will narrow gross margins by as much as 20 basis points. That pressure "will likely be frowned upon by investors," according to RBC Capital Markets analyst Scot Ciccarelli.
Best Buy is not alone in getting squeezed by its efforts to fight back against Amazon. Target Corp. earlier this week reported that its profits were also hurt by new initiatives to drive online sales. Efforts by Target and Walmart Inc. to expand digital demand have resonated with customers but have taken a toll on the bottom line.
Target is also introducing its first-ever consumer electronics store brand next month, dubbed Heyday, with products including headphones and cell phone cases. It's a sign that the demise of technology-focused retailers like Circuit City and HHGregg has opened up opportunities for other chains to grab gadget sales as spending in the category improves.
That means more competition for Best Buy, which will struggle to top the strong results it delivered last year.
"I just see a tougher road ahead in the upcoming year," Wells Fargo analyst Zachary Fadem said.