Best Buy, Abercrombie Fall Most Since March 2020 on Results
(Bloomberg) -- Retailers ranging from Best Buy Co. to Abercrombie & Fitch Co. and Dick's Sporting Goods Inc. slumped Tuesday, underperforming the broader market, despite earnings that appeared to beat on most metrics.
For Best Buy, the S&P 500's worst performer for the day, analysts say the outsized declines are the result of elevated expectations on the heels of a recent rally.  
The consumer electronics retailer plummeted by the most since March 2020 as gross margins were squeezed and domestic online revenue slipped. The drop wiped out the stock's monthly rally, as it had gained nearly 16% in November through Monday's close. Vital Knowledge's Adam Crisafulli said in a note that Best Buy's "results aren't bad, but they do underwhelm in light of the stock's huge recent rally." 
"Considering elevated buyside expectations, recent share outperformance and a series of more punitive post-Q3 sell-offs, we can't call today's harsh -16% reaction (+20bps SPX) a total surprise," Wells Fargo analyst Zachary Fadem wrote in a note, calling the third quarter print "solid." 
Abercrombie & Fitch fell the most since March 2020, dropping by as much as 18% and wiping out its November rally before paring losses to close down by 9%. Dick's Sporting Goods fell 4.1%.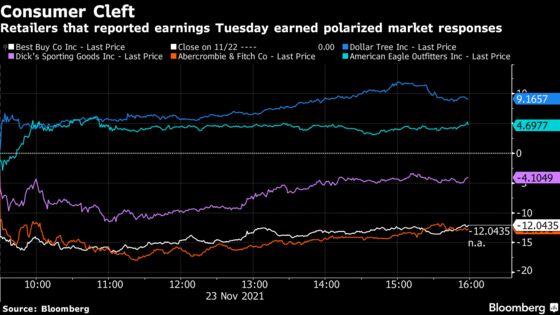 On the other side of retailer earnings, Dollar Tree Inc. was the S&P 500's top performer Tuesday, gaining 9.2%. American Eagle Outfitters Inc., which initially dipped lower as the market opened, rose 4.8%.