Belize Defaults on Debt for Second Time in a Year, S&P Says
(Bloomberg) -- Belize is on course for its second default in less than a year after missing an interest payment, triggering a downgrade by S&P Global Ratings.
The Central American nation was cut to SD, or "selective default," from CC by S&P on Monday after failing to make a $6.5 million interest payment on its $526.5 million so-called superbond due in 2034. It marks the country's fifth restructuring or default event in the past 14 years.
"We do not expect the missed interest payment to be made during the stated 30-day grace period, since the Belizean government recently announced a consent solicitation seeking to extend the grace period applicable to the May 20 coupon to Sept. 19," Mexico City-based analysts Omar De la Torre and Livia Honsel wrote in a statement announcing the move.
The nation's 2034 notes were little changed near 41 cents on the U.S. dollar as of 10:20 a.m. on Tuesday.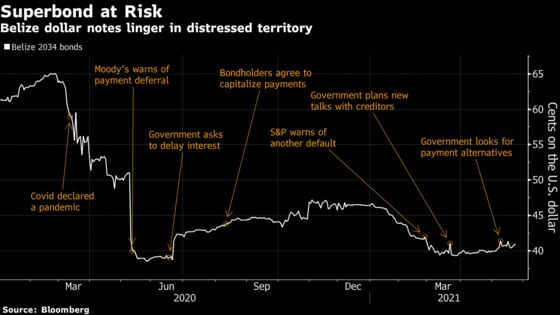 In February, the rating company warned that Belize would struggle to stay current on payments, and by the following month, the government said it was looking to engage bondholders in restructuring negotiations. Since then, Belize has asked its creditors to accept a 30% haircut and a maturity delay on its notes, while an investor committee complained of a lack of transparency.
On May 19, the government said in a statement that it was seeking an extension to the grace period until September. Bondholders have until 5 p.m. in New York on June 1 to accept the nation's consent solicitation.
Acceptance of the request by a sufficient share of bondholders would likely be treated by S&P as a distressed exchange, given the nature of the request and relatively few options for creditors, according to the rating company.
"Belize faces a constrained fiscal position and has low external liquidity," the analysts wrote. "Social and financial pressures caused by the pandemic, given Belize's precarious economy and health system, have shifted the government's policy priorities and weakened its capacity to pay its debt service."
S&P announced its decision after the bond market close on Monday.