Belgium to Accept Ivorian Ex-President Pending Appeal
(Bloomberg) -- Belgium has agreed to receive former Ivory Coast President Laurent Gbagbo after his conditional release by the International Criminal Court, pending an appeal of his acquittal on charges of crimes against humanity, the Belga news agency reported.
The Brussels government decided to host Gbagbo following a request by the ICC, which cleared him of the charges, foreign ministry spokesman Karl Lagatie said, according to the news service. Prosecution is preparing an appeal against the acquittal, which might take months.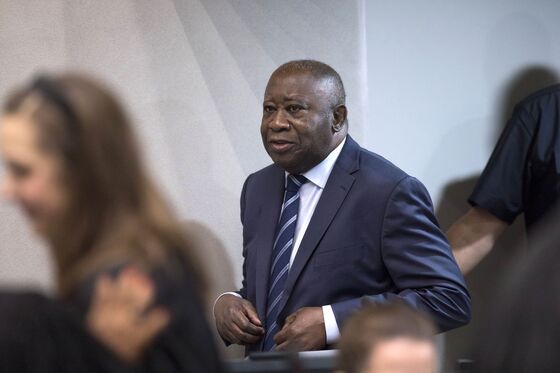 Judges from the ICC's Appeals Chamber said that Gbagbo and co-defendant Charles Ble Goude may reside in a "state willing to accept them on its territory and willing and able to enforce" conditions attached to their release, according to a statement released by The Hague court on Friday.
Gbagbo, 73, was acquitted last month after seven years of detention for his role in Ivory Coast's worst-ever crisis, which was triggered by his refusal to accept defeat in a 2010 election against President Alassane Ouattara. A five-month standoff left at least 3,000 people, mostly Gbagbo opponents, missing or dead.
The fighting ended shortly after United Nations and French troops bombed the presidential residence to force Gbagbo and his wife to surrender. Ouattara was sworn in as president weeks after their arrest and comfortably won a 2015 ballot.