Bed Bath & Beyond Stock Surges Most Since 2000 on Activist Plans
(Bloomberg) -- Bed Bath & Beyond Inc. soared as much as 30 percent -- the most intraday in 19 years -- on news that activist investors plan to challenge the home-goods retailer's directors in a proxy fight. The company responded Tuesday by saying the investors have ignored its requests for feedback and only appear interested in gaining ammunition for an activist battle.
Three activist funds are launching a campaign to replace the entire 12-person board amid concerns that the retailer is not responding well to the rise of e-commerce, according to people familiar with the matter.
The trio -- Legion Partners Asset Management LLC, Macellum Advisors and Ancora Advisors LLC -- control about a 5 percent stake in the Union, New Jersey-based retailer and are seeking to replace Chief Executive Officer Steven Temares, according to the people, who asked not to be identified discussing a private matter.
See Also: Activists Spoil Party for Bed Bath & Beyond Short Sellers
Bed Bath & Beyond confirmed Tuesday that it had met with Legion and Macellum in recent weeks and asked "on several occasions" for "suggestions and ideas for improving the company's business but they did not provide any." It said there hasn't been any contact with Ancora.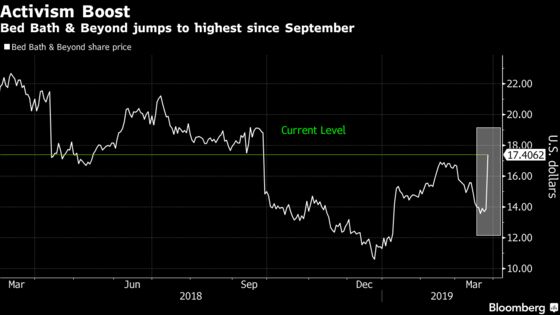 The company said it invited the investors to participate in a board refreshment program, but "instead they chose to publicly attack the company and provide their intent to nominate directors to take over the full board," according to a statement. "Unfortunately, while our directors and management were seeking to engage in good faith, it appears that the Legion and Macellum representatives were merely seeking information to support their attack."
Bed Bath & Beyond shares climbed to as high as $18.09 on Tuesday. They had sunk 34 percent over the past year on skepticism that the company will be able to hit its targets.
The funds have lined up 16 director candidates, including former Gap executive Jeff Kirwan, to replace the current board, according to the people.
Bed Bath & Beyond has faced many of the same challenges of other traditional retailers, including a costly battle to ward off Amazon.com Inc. It has spent heavily to revamp both its brick-and-mortar stores and online presence as it tries to bring to an end seven straight quarters of same-store sales declines.
What Bloomberg Intelligence Says

"The fight to replace the entire board is a solid first step to turning around Bed Bath & Beyond, but likely won't be enough, given how far behind the retailer has fallen. Share losses have been continuous despite many efforts, pressuring margins."
--Seema Shah, U.S. retail analyst
Click here to read the research
Representatives for the three funds didn't respond to requests for comment. The Wall Street Journal had earlier reported on the activist challenge.
Bed Bath & Beyond said that it has hired Goldman Sachs as a financial adviser and Wachtell, Lipton, Rosen & Katz as legal counsel.