Bed Bath & Beyond Surges 91% Amid Accelerated Buyback Plan
(Bloomberg) -- Bed Bath & Beyond Inc. soared in late trading on Tuesday after announcing accelerated share buybacks and the launch of a new digital marketplace for merchandise from third-party producers. 
The company said it expects to complete its $1 billion share repurchase plan by the end of its fiscal year in February -- two years ahead of schedule. There is $400 million of buybacks remaining in the program. 
The shares surged as much as 91% to $32 after the close of regular trading in New York, highlighting the stock's recent volatility as traders pile into the social-media-driven retail-trader favorites known as meme stocks.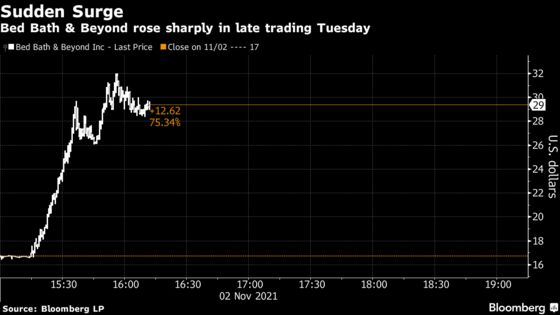 Bed Bath & Beyond was among one of the first retailers to show how the delta variant is affecting its supply chain, changing consumer behavior and eroding sales. In September, when it reported quarterly earnings, the home-goods retailer posted revenue that fell 26% from a year earlier and said store traffic slowed during the back-to-college season in key regions. That sent the shares down 22% at the time, with Chief Executive Officer Mark Tritton noting that challenges in August had persisted into September. 
Today, his tone was more confident. 
The buyback announcement "further underscores our ongoing confidence in our turnaround, and our ability to simultaneously generate positive cash flow, maintain a strong balance sheet and invest in our long-term growth, all while returning significant capital to shareholders," Tritton said in a statement. 
In addition to its online marketplace, the home-goods retailer said it would start selling some of baby and home merchandise at Kroger Co. and pilot a small-scale physical store in some Kroger stores starting next year. Bed Bath & Beyond also named Anu Gupta as chief growth officer and Rafeh Masood as chief customer officer, both new roles. 
Elsewhere in the meme world, shares in Avis Budget Group Inc. doubled Tuesday as the rental-car company was mentioned alongside other such stocks on Reddit's WallStreetBets thread and chatroom Stocktwits.