Bed Bath & Beyond Announces More Cuts Amid Business Overhaul
(Bloomberg) -- Bed Bath & Beyond Inc. announced another round of cuts in the home furnishing company's bid to simplify its business and reverse years of flagging sales.
The company said it's cutting about 500 jobs, a move it characterized as part of a "reorganization and simplification" of its field operations. Bed Bath & Beyond will also outsource some areas, and estimates restructuring will save it "several hundred million dollars over the long-run." It estimates the reduction of expenses will save $85 million annually.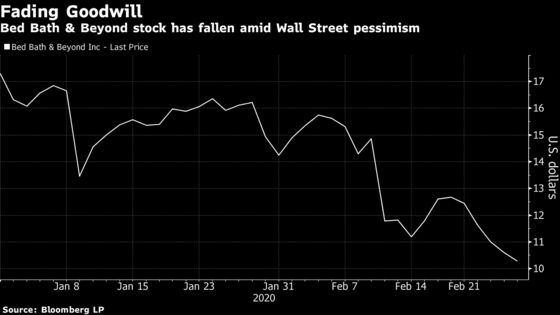 Bed Bath & Beyond is aggressively trying to revamp its business to compete with the online retailers, discounters and big-box stores that have eroded its sales. The company hired Mark Tritton from Target Corp. last year to take over as chief executive officer and he's unleashed a slew of measures since including a $1 billion spending plan, the sale of its online personalized gift company and a restructuring of its leadership.
"This will reset our cost structure, allowing us to re-invest where it matters most to our customers, to re-establish our authority in the home space," Tritton said in a statement.
His restructuring promises to "simplify and remove spans and layers of management" while removing duplicate roles and realigning regions of operations.
While the total number of jobs varies by season, the company employs as many as 60,000, so the latest move represents less than 1% of total jobs.
Tritton is under pressure to produce results quickly -- Bed Bath & Beyond shares have fallen 41% so far this year as expectations for a quick turnaround fade. Loop Capital's Anthony Chukumba said earlier this month that the weak holiday sales show the company may be "too far gone for a turnaround to ultimately succeed."