BBBs Are Back in Style as `Fallen Angels' Freakout Fades Away
(Bloomberg) -- Investors are showing renewed appetite for the riskiest investment-grade debt as fears about a flood of "fallen angels" tumbling into junk prove overblown.
Bonds rated BBB -- the lowest ratings tier above junk -- by at least one ratings agency have comprised two-thirds of new supply in the investment-grade market in the first 11 trading days of the year, a drastic reversal from last quarter's BBB presence of less than one half, according to data compiled by Bloomberg.
December was the slowest month for issuance since 1995 as volatile equity markets and weaker macro sentiment overshadowed funding needs. The U.S.-China trade war, the Federal Reserve considering more rate hikes in 2019, and a misalignment between monetary policy in the U.S. and abroad all contributed a less supportive environment for credit.
In the same period, credit spreads, the additional premium above Treasuries investors pay to hold riskier debt, widened 16 basis points, and high-grade bond funds experienced four straight weeks of outflows, according to Lipper Fund flows data.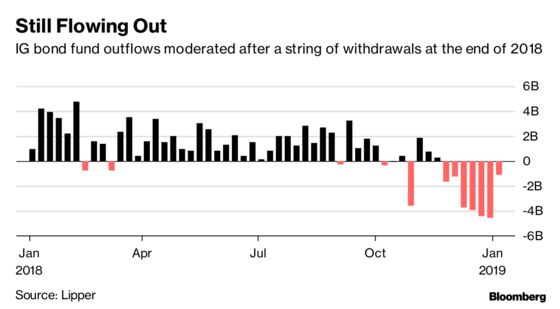 Analysts have become more positive about investment-grade credit since then. On Jan. 4, Bank of America Corp. strategists moved U.S. high-grade to overweight from underweight, adding they were particularly bullish on BBB's.
Morgan Stanley also recently reevaluated its somewhat bearish position, recommending that investors add some credit risk as the "short-term risk/reward in U.S. credit has improved notably." These revisions come after the bank's strategists repeatedly warned investors about a potential fallout in the BBB space last quarter. Barclays Plc's Jes Staley echoed these concerns in November, saying on Bloomberg Television that regulators should focus on of the corporate debt market's "fallen angels" problem.
Investors, it seems, have also become less bearish. The recent flood of BBB deals were met with strong demand, allowing borrowers to secure lower overall funding costs. Fox Corporation, a spin-off from 21st Century Fox Inc. assigned a rating of Baa2 by Moody's Investors Service and BBB by S&P Global Ratings, saw orders that were as much as nine times the size of one of its tranches for its Walt Disney Co. acquisition-related bond sale. Subscription rates, on average, were six times the total deal size of $6.8 billion.
"The fact of the matter is, companies are still able to bring deals, there's still demand, and we're running ahead of last year's pace in terms of total new issuance," said Zachary Chavis, portfolio manager at Sage Advisory Services said in a phone interview.
Anheuser-Busch InBev NV, rated three notches above junk by Moody's, had similar results on its $15.5 billion offering, attracting orders in excess of about $40 billion, roughly 2.7 times over the deal size.
"The fact that you have big deals, notably Anheuser-Busch after a downgrade, and that it was very well subscribed is a testament to the fact that good issuers still have market access," said Bloomberg Intelligence analyst Noel Hebert in a phone interview.
These borrowers' success came at the same time investors were focused on macro news headlines that have been affecting markets: the longest-ever government shutdown, the rejection of Theresa May's Brexit deal, a more dovish Fed, and earnings from Wall Street's biggest banks. That may be a signal that there is a disconnect between the credit market and the broader market. Credit metrics have also somewhat recovered from a fourth-quarter rout, though investment-grade spreads remain near two-year wide levels and outflows came in at $1.1 billion last week.
If the U.S. investment-grade primary market is one of the "key drivers of what credit does in January," then investors' willingness to buy what one group of strategists calls "bad boy bonds" amid a turbulent macro backdrop is a positive sign for credit markets.
Even with the improvements, some still have reservations. The concern over fallen angels "is still there over the long-term," said Chavis.