College Scam Trial Down to Two as Another Parent Agrees to Plead
(Bloomberg) -- The number of parents facing trial next month in the U.S. college admissions case dwindled to two as Bay Area executive Marci Palatella agreed to plead guilty.
Palatella, described by prosecutors in a statement Tuesday as the chief executive officer of a California liquor distributor, will admit she conspired to get her son into the University of Southern California as a purported athletic recruit, according to the U.S.
Prosecutors said Palatella, 66, agreed to pay $500,000 to the scheme's mastermind to have her son admitted to USC as a defensive lineman on the football team, even though he wasn't really being recruited and wouldn't play. She will plead guilty to one count of conspiracy to commit honest services mail fraud, according to her plea agreement in federal court in Boston.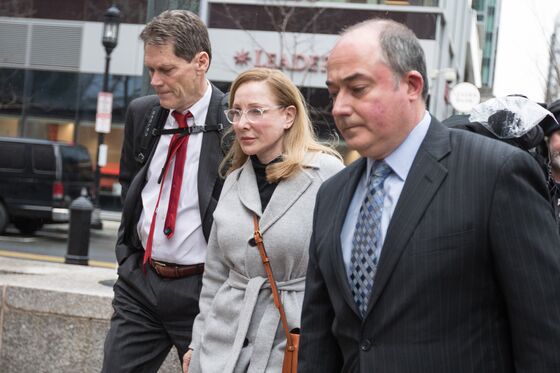 The Hillsborough, California, executive has agreed to serve six weeks in prison, pay a $250,000 fine and submit to two years of supervised release. 
Jack DiCanio, a lawyer for Palatella, didn't immediately return email and voicemail messages seeking comment about his client.
She'll be the 33rd parent to plead guilty in the case, and the second since last week to drop out of the coming trial. Elisabeth Kimmel, the former CEO of a California-based media company, pleaded guilty on Aug. 16. Next month's trial will now include only two of the parents remaining in the case, with the final three scheduled to follow in January. 
Palatella was one of more than 50 people charged by federal prosecutors in Boston in 2019 in the largest college cheating case ever brought by the U.S. The government alleged a conspiracy in which parents paid the plot's mastermind, a college admissions strategist, to fix their kids' entrance exam scores, fake their resumes as star athletes or both. Palatella engaged in both schemes, according to the original federal complaint against her.
The sprawling prosecution has claimed prominent figures in finance such as former Pimco chief Douglas Hodge and swept up entertainment fixtures like Lori Loughlin, as well as athletic coaches at elite schools across the country. None of the colleges or applicants were charged.
The case is U.S. v. Colburn, 19-cr-10080, U.S. District Court, District of Massachusetts (Boston).