Battle for Poland's $19 Billion E-Commerce Market Begins For Real With Amazon Entry
(Bloomberg) -- A battle for Poland's online shoppers is heating up with Amazon Inc. announcing plans to enter the booming $19 billion market.
Shares in the east European nation's e-commerce leader and Warsaw's biggest listed stock, Allegro.eu SA, slumped the most in a month after the U.S. giant announced on Wednesday that sellers can register for its new Polish website that will go live soon.
Amazon has 10 logistics centers in Poland that help process European deliveries, but until now hasn't been focused on the country's online market. Its move poses a threat for Allegro, which has ridden a boom in online sales amid repeated shop closures during the coronavirus pandemic.
The Polish platform, which has seen its market capitalization almost double since its Warsaw debut in October, controls more than 36% of the market thanks to its strong consumer base and fast deliveries.
"Amazon's entry exposes Allegro to significant competition risk, challenging the view that the company may further boost its market share and raise margins," said MBank SA analyst Pawel Szpigiel. "Even as Amazon fees may be higher, merchants will get fulfillment and packaging services and access to global shoppers."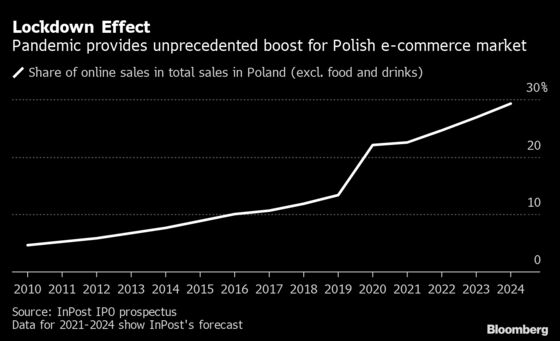 The Polish company said it's ready for the challenge. Allegro's investments in technology and staff, together with a recently added deferred-payment option for buyers, should support merchants and keep consumers locked in, Chief Executive Officer Francois Nuyts said by email.
Allegro's shares traded 6.5% lower at 70.11 zloty at 4:17 p.m. in Warsaw, on track for their biggest daily decline since Dec. 21.
Amazon's move comes only a week after Alibaba Group Holding Ltd.'s announced plans to invest in parcel lockers in Poland to speed up delivery from Chinese merchants via its AliExpress platform.
Footwear retailer CCC SA's online arm EObuwie.pl is reported to have attracted several suitors including Japan's SoftBank Group Corp. Global e-commerce operators bet that online sales in Poland will quickly converge with Western levels.
Amazon's announcement coincides with a market debut of InPost SA, which runs a network of automated parcel lockers in Poland and is working closely with Allegro. The stock soared in Amsterdam trading after its owners raised 2.8 billion euros ($3.4 billion) in Europe's biggest initial public offering since 2018.
MBank's Szpigiel said Amazon's decision may help InPost's business as it confirms a high interest in Poland's e-commerce. InPost CEO Rafal Brzoska told Bloomberg TV on Wednesday that the nation's retail market could split evenly between a traditional brick-and-mortar model and online shopping in the next five to seven years.
"A full retail offer for Polish consumers is our next step and it's now the time for doing it," Alex Ootes, Amazon's Vice President for European Union expansion, said by email.