BASF Targets $2.3 Billion Profit Boost From Corporate Revamp
(Bloomberg) -- BASF SE Chief Executive Officer Martin Brudermueller unveiled a comprehensive redesign of the chemical giant's corporate structure to boost profit by 2 billion euros ($2.3 billion) from 2021 and challenge smaller, more focused competitors.
The Ludwigshafen, Germany-based company is also targeting growth in earnings before interest, taxes, depreciation and amortization of 3 percent to 5 percent per year, although this undershoots analyst estimates through 2021.
Six months into his tenure, Brudermueller will be hoping his plans reignite investor faith in BASF and its ability to adapt to fast-moving markets like electric vehicles. The company will stay true to its roots of operating large, diversified chemical complexes, but will need to be more nimble.
From the start of next year, BASF will have six distinct divisions spanning chemicals, materials, industrial solutions, surface technologies, nutrition and care, and agricultural solutions. That's aimed at making the company more efficient.
BASF will also spend 400 million euros a year on making plants more reliable and adaptable to changing global trends.
BASF shares have slumped 26 percent this year, including a 3.1 percent decline as of 11:33 a.m. in Frankfurt on Tuesday. At third-quarter results last month, Brudermueller said he wasn't satisfied with that performance, and acquired about 1 million euros of stock in a show of confidence.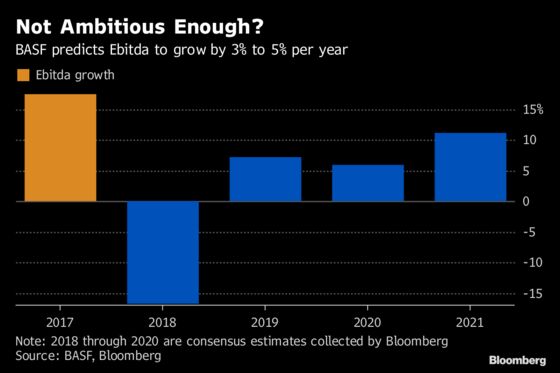 "We're convinced this is the right path," Brudermueller said. "We know about the enormous potential of BASF employees and want to empower them more."
"BASF is set to scrutinize itself more intensively," said Thomas Wrigglesworth, an analyst at Citigroup. "Smaller and cleaner divisional delineation will ensure that each business has to perform in line with its peers."
To read more about the strategy update, click here.