BASF Pulls Down Chemical Stocks as Forecast Cut Shocks Investors
(Bloomberg) -- BASF SE fell as much as 5.5 percent after the German chemical manufacturer cut its profit forecast Friday, making the industry's SX4P the worst performing index on the region's benchmark Monday. The company cited a drop in chemical prices, a low Rhine water level, an automotive slump and fallout from the U.S. trade spat with China.
Most analysts see the negative impact of the water levels as temporary and are more concerned about the trade war and the weak demand for cars. Some also anticipate that prices for the company's TDI and MDI chemicals could stay low into 2019.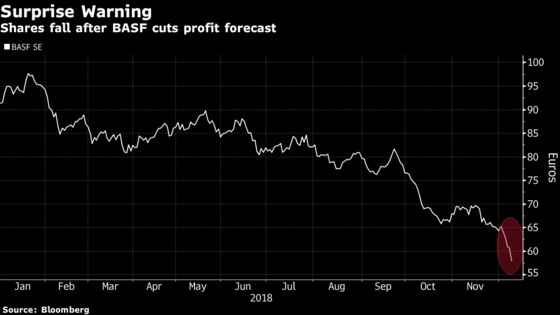 Here's what analysts said about the company:
Jefferies, (hold, price target 64 euros)
"End-market demand to remain muted, with automotive softness and destocking issues lingering into 2019 as customers delay orders ahead of lower petrochemical prices"
Worldwide MDI, TDI prices to start to recover in the spring, particularly once the next restocking cycle begins
Still expect a restock cycle after Chinese New Year, while underlying demand trends appear likely to erode, particularly in the U.S., in the second half of 2019 and in 2020
Citi (buy, price target 81 euros)
Challenges in the last quarter of this year to weigh on near-term sentiment for both the shares and the sector, especially on industrial chemicals
Sees scope for normalization toward good levels of profitability in the first half of 2019 as diversification, exposure to agchem dividend yield expected to limit further downside
Bankhaus Lampe (buy, price target 100 euros)
While reasons for warning are not a surprise, the magnitude of the forecast cut is
While Rhine water level is a one-off, the other issues are pointing toward a weaker operating trend
Baader (sell, price target 65 euros)
Reiterates that consensus is far too positive for 2018, 2019 and 2020
Keeps contrarian sell rating for the time being; sees a negative share price impact in particular for commoditized chemical stocks, such as Arkema, Covestro, Lanxess
Kepler Cheuvreux (under review, price target 60 euros)
News is "clearly disappointing," cuts price target from 96 euros
"We wonder which factors have led to this significantly more negative picture compared to management's statements just two weeks earlier"

Slower car sales clearly a factor
Ramping up the smaller of the two crackers might take longer than expected

"Dividend yield hunters can go for over 5 percent, but are up for a bumpy ride"