Barry Diller Has No Time for Talk of a World Changed by Pandemic
(Bloomberg) -- Forget working from home and Zoom meetings. Barry Diller is betting the future looks a lot like the past.
A billionaire who made his fortune first as a Hollywood mogul and more recently in online dating, Diller is predicting that life pretty much returns to normal once there's a coronavirus vaccine. Families will again take vacations and managers will send employees to conferences.
He'd better hope so, because one of his companies -- Expedia Group Inc., the online travel agency -- depends on it.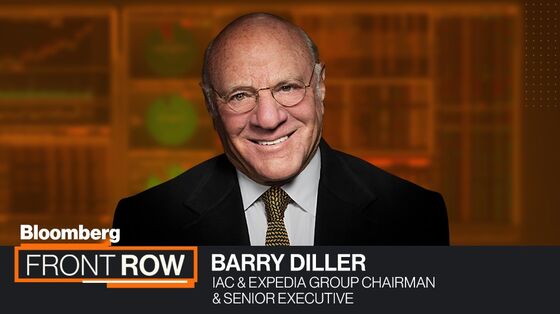 "You cannot live in this moment where we project the future based on present circumstance," Diller said in a Bloomberg "Front Row" interview. "I think relatively little changes."
Few chief executives share his view. Many are preparing for a world permanently altered by the pandemic, touting the virtues of video conferencing and discussing plans to downsize real estate.
To Diller, who at 78 has lived through 12 recessions, they've "lost all objectivity." He dismisses such ideas as "a new ice cream flavor" that'll go out of fashion as soon as it's safe again to do business the old way.
The wisdom of Diller's view will depend on how quickly the world develops a vaccine and whether the mounting death toll keeps the public away from planes and offices, such as the one Diller's Expedia just finished at a cost of more than $1 billion. The new corporate headquarters in Seattle has space for 15,000 people. Weeks after the company moved in, the first U.S. coronavirus case was reported in Washington State.
Diller said returning to the office will be "a mandatory thing" at Expedia and at IAC/InterActive Corp., his New York-based conglomerate of internet businesses, and he's disinclined to let employees work at home even one day a week.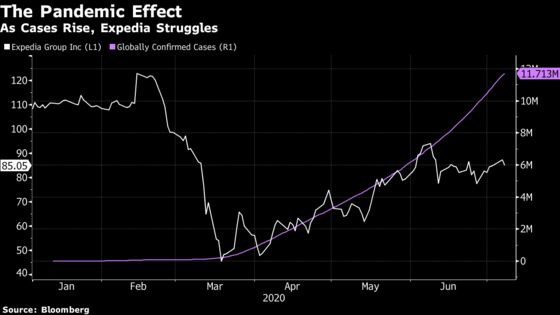 "As a long-term thing, we're not going to reconfigure our offices for social distancing," he said. "We'll do what we think is wise and sensible for the health of our colleagues."
IAC, whose companies include Vimeo and HomeAdvisor, has largely benefited from the pandemic as more business shifted to online platforms. On July 1, it completed the spinoff of dating powerhouse Match Group Inc., owner of match.com and Tinder. Together, IAC and Match are worth about $35 billion.
For now, Expedia is still in survival mode. Bookings fell 85% in March and April and customers were stranded worldwide as airlines canceled flights. The company raised almost $4 billion in debt and preferred stock and accelerated cost cuts.
Diller said Expedia's bookings have steadily improved. He expects revenue in 2021 will bounce back to between half and three-quarters of the record $12 billion last year. That's even more conservative than analysts who follow the company: On average, they forecast $9.22 billion of revenue.
In his effort to win as large a share as possible of a shrunken market, Diller will have to decide where to advertise -- Expedia spent $6.1 billion on sales and marketing in 2019 -- and where not to. He refuses to join Unilever NV, Starbucks Corp., Coca-Cola Co. and others in a boycott of Facebook Inc. for what critics consider the social network's insufficient policing of hate speech.
"This is a time when cancel culture, and all of the things around that, it's acute," said Diller, who described himself as a supporter of Facebook CEO Mark Zuckerberg. "A boycott against Facebook is ill-advised and ill-considered."
Diller risks being labeled insensitive to racism and unsupportive of protest movements such as Black Lives Matter. He called the shift in attitudes provoked by George Floyd's killing in Minneapolis "real and sustaining" for him and for his companies.
While optimistic about a coronavirus recovery, Diller is scathing about the U.S. response. He called the economic reopening of the South and Southwest "bastardized." Instead of the manageable spike in cases he hoped for, the daily U.S. infection count has surged to new highs, and governors in states including Florida, Texas and California reimposed restrictions, raising the chance of a double-dip recession.
"My biggest fear was and continues to be that we will reopen and have to shut down again," Diller said. "That to me is actually catastrophic."
It's possible, he said, that only a federal law requiring everyone to wear face masks can halt the pandemic. Diller isn't hopeful he'll get one from a president who refuses to wear a mask himself.
He singles out Treasury Secretary Steve Mnuchin as the only figure in the Trump administration who hasn't disappointed him. Diller, a stalwart Democrat, once said he'd leave the country or join the resistance if Donald Trump were elected president. Now, he said nothing is more important than voting Trump out of office in November.
"We've had good presidents, bad presidents," he said. "We never had a rotten president. We now have one, and he should be gone."