Barclays Investment Bankers Seize on Deal Boom as Fees Surge
(Bloomberg) -- Barclays Plc's bankers made the most of the booming deals market, delivering a record quarter and helping offset more muted earnings in its trading unit. 

Investment banking fees at the London-based lender soared 59% to 971 million pounds ($1.3 billion), more than double the jump that analysts had expected and mirroring the strong performance of U.S. peers. That helped cushion revenue from a 20% drop in fixed-income trading as the rally that drove profits a year ago petered out.

"Investment banking fees in the primary side, whether its advisory, debt capital markets, equity capital markets, we had the highest quarter in the history of Barclays," Chief Executive Officer Jes Staley said in an interview on Bloomberg TV. 
"I think you'll see variable compensation higher this year given that they've generated record profits," Staley said.
Shares in Barclays were 0.8% lower at 11:50 a.m. in London, with analysts at Citigroup Inc. questioning if the bank could keep up the investment banking momentum in future quarters.
The results echo Wall Street's top firms that have been capitalizing on a golden era for dealmaking since the start of the pandemic. JPMorgan Chase & Co.'s mergers-and-acquisitions business posted its best quarter ever as global deal volumes near 2007's record.
"Investment banking fee business continues to be quite robust" in the fourth quarter, Staley said.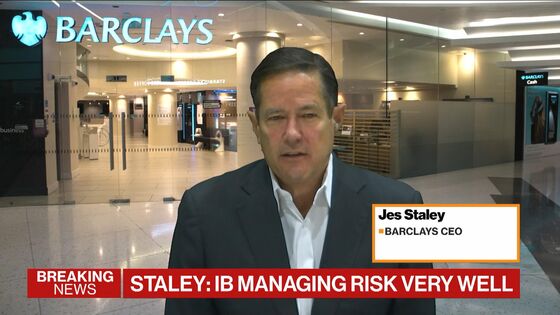 Barclays is considering shaking up parts of its global markets unit under global head C.S. Venkatakrishnan to prepare for volatility drying up after the pandemic. Discussions with underperforming traders are ongoing and job cuts can't be ruled out, Bloomberg News has reported. The investment bank, headed by Paul Compton, has undergone staff changes in New York and is targeting U.S. tech IPOs as an avenue for growth. 
Barclays, the first major U.K. lender to publish earnings, said pretax profit more than doubled at its domestic unit as lending improved and impairments decreased. Staley said that consumer spending was now above levels seen before the Covid-19 pandemic. 
The bank also said in its third-quarter results: 
Total income 5.47 billion pounds, beating the estimate of 5.3 billion pounds.
Fixed-income trading revenue fell to 803 million pounds, short of the estimate of 836 million pounds.
Equities trading revenue rose 10% to 757 million pounds, topping the 657 million-pound estimate.
Impairments were 120 million pounds, better than forecasts and down from 608 million pounds a year earlier.