Baozun Sinks 13% as Singles Day Orders Growth Decelerated
(Bloomberg) -- Baozun said total order value for Singles Day was a record RMB6.55 billion, or up 31 percent from last year's figure. The growth paled in comparison to the doubling that the company has reported in each of the prior two years.
Baozun's ADRs plunged more than 13 percent in pre-market trading.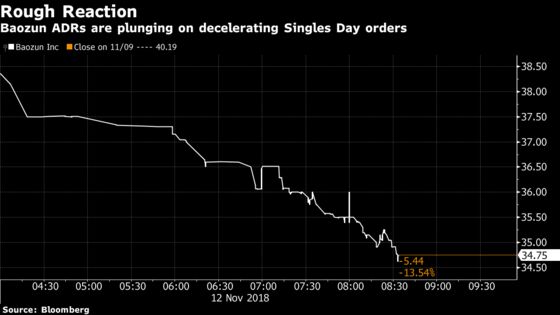 "This is the tenth year we participated in the Singles Day shopping festival and I am pleased to see that our strategy to prepare for the massive surge in orders continues to generate strong results," Baozun CEO Vincent Qiu said. "We surpassed Singles Day 2017's total order value in less than 12 hours this year."
Alibaba is also weaker in the pre-market, falling around 1 percent as gross merchandise value fell sharply to 27 percent from last year's 39 percent.