Banksy Balloon Prints Sell Like Hotcakes in Ice-Cold Art Market
Leave it to the art world's most famous prankster to breathe some life into an otherwise devastated market.
An online sale of 25 prints by the mischievous street artist Banksy totaled $1.38 million, about $70,000 more than the high estimate, Sotheby's said Friday. The auction, with as many as two dozen bidders per lot, was led by two versions of the artist's "Girl With Balloon," based on the painting that famously self-destructed at auction in 2018. The top lot, a version with a pink balloon, fetched 375,000 pounds ($464,000). A second with a red balloon brought in 106,250 pounds. One lot failed to sell.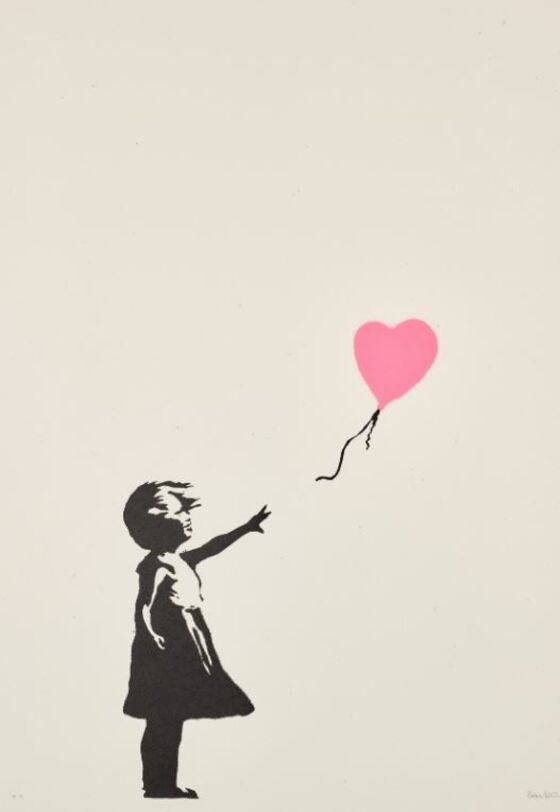 The art market is bracing for a wave of job cuts, with galleries, museums and warehouses closed, fairs including Art Basel canceled or postponed and major New York auctions delayed until the end of June. The action has shifted online, with gallery viewing rooms proliferating and artists hosting virtual studio visits.
The physical movement of art though is "at complete standstill," said Fritz Dietl, president of Dietl International, an art shipping and logistics company. "I don't know how long we'll be able to sustain this. Everyone is talking about layoffs. There's not a single client who's paying right now."
The business getting done is a fraction of normal flow, said Philip Hoffman, chief executive officer of the Fine Art Group. His company sold $10 million of art last week and brokered a $500,000 purchase of a new work for a client from a London gallery this week.
"I don't think we'll see any significant sales before September," he said. "The whole art market, all the buyers are focused on business preservation, health care, financials. It's going to be the hardest period for the art market that I've seen in 25 to 30 years."