Banks Sure Don't Look as If They Need Relief
(Bloomberg Opinion) -- To hear bankers or the Trump administration tell it, the Dodd-Frank financial reform passed after the 2008 credit crisis has weighed heavily on the industry and the economy. Banks struggle under thousands of pages of regulations. They need relief.
Plausible as that might seem, it's hard to reconcile with the data on banks' actual performance.
Consider profitability. Last week, the Federal Deposit Insurance Corp. reported that U.S. banks earned a total of $237 billion in 2018. That's the most in at least two decades, both in dollar terms and as a share of the economy.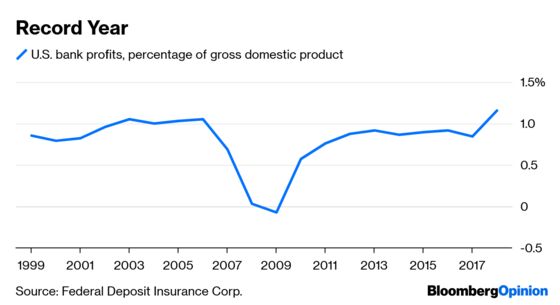 Of course, profit is a broad measure. It includes the effect of interest rates, corporate tax cuts and much else. So let's dig a bit deeper. What about all the added compliance staff that banks have been hiring to handle the new rules? Are they pushing up operating costs?

Judging from banks' reported noninterest expense, no. In aggregate for all banks, it stood at just 2.6 percent of assets at the end of 2018, close to the lowest level in 20 years. The picture was similar at the largest banks, which must deal with added requirements such as stress tests and living wills.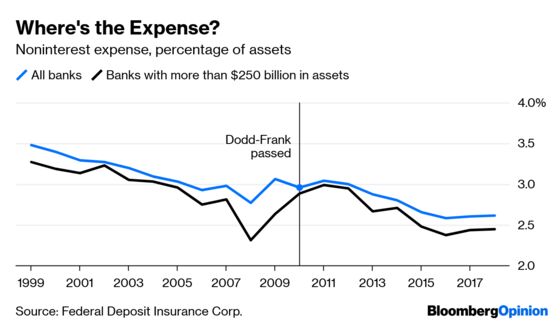 OK, how about trading? One of the most controversial pieces of Dodd-Frank, the Volcker Rule, was supposed to limit big banks' ability to engage in speculation, turning their high-octane trading desks into plain-vanilla customer-service operations. So did this cut into income? Nope: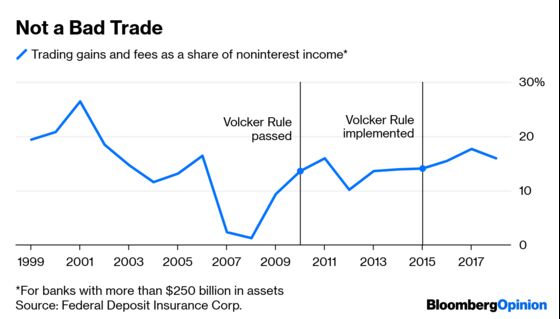 To be sure, it's possible that banks have somehow managed to improve other parts of their business enough to more than offset the onerous effect of regulation. Even if that's partially true, though, it sure looks like Dodd-Frank has made them safer without unduly impairing their ability to serve the economy.
This column does not necessarily reflect the opinion of the editorial board or Bloomberg LP and its owners.
Mark Whitehouse writes editorials on global economics and finance for Bloomberg Opinion. He covered economics for the Wall Street Journal and served as deputy bureau chief in London. He was founding managing editor of Vedomosti, a Russian-language business daily.