Banks Slip on Morgan Stanley Double-Downgrades in Consumer Shift
(Bloomberg) -- Big bank stocks fell Monday after a Morgan Stanley analyst shuffled her ratings -- including double-downgrading JPMorgan Chase & Co. and Bank of America Corp. to underweight -- to reflect a new preference for consumer finance firms.
The downgrades were part of a broader shift, as analyst Betsy Graseck increased her price targets across the board and raised the large-cap bank and consumer finance sector as a whole to "attractive" from in-line. Like others, Graseck sees coming Covid-19 vaccines as likely to end the current recession, while spurring economic activity and more lending. She expects a "wave" of reserve releases and capital returns over the next two years.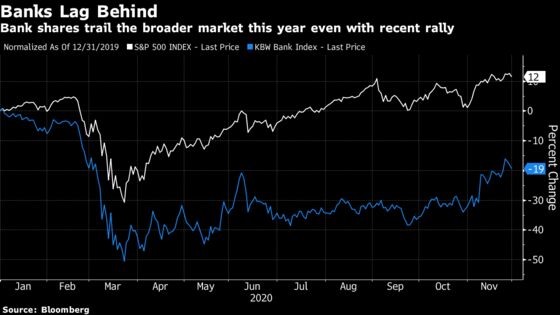 "Banks are set to fire on all cylinders," she wrote, with vaccine distribution "enabling U.S. normalization by the end of 2021."
However, she cautioned that BofA's tighter underwriting standards and JPMorgan's "fortress" balance sheet and careful credit extension limits will probably damp their relative upside coming out of a recession. She also sees Goldman Sachs Group Inc.'s revenue dropping as "market volatility and the urgency around capital raising activity (both equity and debt) subside" in 2021. She cut her rating on that stock to underweight from equal-weight.
JPMorgan shed as much as 2.2% in Monday trading, BofA as much as 2.3%, and Goldman as much as 1.9%. Though bank stocks have played catch-up in recent weeks, the KBW Bank Index has sunk 19% this year, pummeled by pandemic-induced economic woes and low interest rates, versus the S&P 500's 12% rally.
Unlike universal banks, consumer finance stocks are more exposed to declining unemployment levels, Graseck said, and she noted that they have the highest levels of excess capital. Plus, the average U.S. consumer is in better shape than during the prior recession, with less debt, higher home prices and the benefit of fiscal stimulus. Consumer finance stocks are "among the few that do not yet reflect a V-shaped recovery," she added.
She sees reserve releases and buybacks starting in mid-2021, and she views President-elect Joe Biden as likely to bring "centrist Democratic philosophies," with a regulatory focus on "getting the underbanked and unbanked into the banking system."
Read more: Banks Rise With Boost From Yellen Treasury Pick: Street Wrap
Her other ratings changes included raising Wells Fargo & Co. to overweight, with the "uncertainty around impact of business exits and timing of consent order/asset cap exit more than accounted for." Graseck also upgraded Synchrony Financial, Capital One Financial Corp., and Regions Financial Corp. to overweight from equal-weight, lifted State Street Corp. to overweight from underweight, and raised U.S. Bancorp and BNY Mellon Corp. to equal-weight from underweight. She lowered her ratings on Discover Financial Service and SEI Investments Co. to equal-weight from overweight.
Separately on Monday, RBC analyst Gerard Cassidy raised Wells Fargo to sector perform ahead of likely "cost savings and divestiture plans." And BMO's James Fotheringham wrote that balance-sheet analysis for 19 large-cap banks, specialty lenders and investment banks suggests "it's not too late to buy credit-sensitive FIG stocks, even after the vaccine rally."
Graseck's top picks include:
Synchrony on "robust performance in retail card, reserve releases, ramping buybacks, with growth kicker from new Verizon/Venmo relationships."
Alliance Data Systems Corp., which is "still mispriced for ongoing shift to a pure-play consumer finance and better credit performance."
Ally Financial Inc., as it's "still attractive for the ongoing auto recovery and one of the best NIM stories out there."
Capital One, which has the highest expected level of excess reserves among all companies, potentially driving large share buybacks.
American Express Co., because normalization offers "booster shot for the T&E sector."
Read more: Financials Look Cheap Across Sectors, Credit Suisse's Golub Says