Banks Keep Sliding as Results Won't Change 'Negative Narrative'
(Bloomberg) -- Bank stocks are extending losses in early trading, as earnings reports showing slightly more lending in the third-quarter aren't outweighing concerns about generally sluggish growth, or the fear that the costs of higher interest rates are overshadowing the benefits.
Shares of Bank of America, JPMorgan, Citigroup and Morgan Stanley are dropping as the KBW Bank Index falls into a fourth day, down as much as 1.9 percent to its lowest since September 2017. KBW equity strategist Fred Cannon flagged macro factors including a flatter yield curve, a hawkish Fed and trade worries, along with rising deposit costs and disappointing loan growth. Cannon added there aren't any catalysts for buying the stocks, as earnings estimates haven't changed.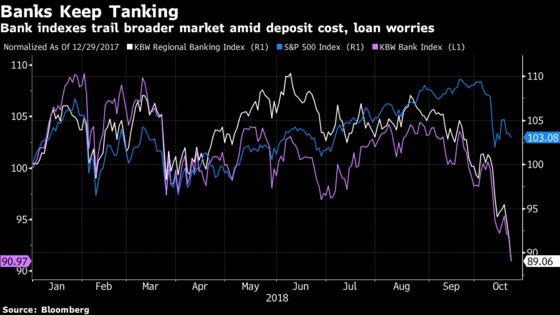 Results from Fifth Third Bancorp and Regions Financial Corp, on Tuesday, both of which showed more lending in the quarter, probably won't "change the negative narrative (lackluster loan growth and declining flow-through benefits from rising rates) surrounding bank stocks in recent weeks," Instinet analyst Bill Carcache writes in a note. Regions shares are down as much as 4.2 percent in early trading.
Huntington Bancshares dropped as much as 3.3 percent after reporting better-than-expected third-quarter earnings per share, but cutting its 2018 revenue view.
Geopolitical concerns, including worries about Saudi Arabia, China and Italy, may also be weighing on bank stocks.
BofA's Chief Operating Officer Thomas Montag and Evercore Inc. Chief Executive Officer Ralph Schlosstein are the latest in a string of top bankers who canceled plans to attend Saudi Arabia's signature investment summit, according to people with knowledge of the matter.