Banks Count Cost of Negative Rates as ECB Tries to Ease Pain
Three months after Christian Sewing declared he was returning Deutsche Bank AG to its roots as a European lender, the chief executive officer faced a reckoning: There's just no quick fix for banks in a region plagued by negative interest rates.
Germany's largest bank reported Wednesday a 4% drop in third-quarter revenue at the businesses it had earmarked for growth, due in part to a further decline in interest rates that few banks could have predicted a half-year ago. Its shares fell the most in more than three years.
Deutsche Bank's earnings and those of its European peers in the latest quarter underscored the pain they're feeling after the European Central Bank pushed interest rates deeper into negative territory, undermining their business model. While some relief is on the way, with a tiered system for the ECB's charges that kicked in on Wednesday, banks still must start passing penalties on to clients -- even in areas that were previously off-limits.
"We're taking action to offset that environment," James von Moltke, Deutsche Bank's chief financial officer, said in a Bloomberg TV interview in Frankfurt. "We're looking across our businesses at passing on negative rates to clients where it's prudent and sensible and also legal."
Deutsche Bank is talking to wealthy clients and business customers about sharing negative rates above certain thresholds, and has introduced fees for some retail customers, von Moltke said. Banks in Switzerland have already taken similar action. In September, Credit Suisse Group AG told private banking and corporate clients with deposits greater than 2 million Swiss francs ($2 million) that they would start to incur a negative rate.
Negative rates "are not helpful to the banking sector, I think everybody can see that," said Credit Suisse CEO Tidjane Thiam. "So it's something that will have to change at some point to really get the sector back on track." Private clients pulled about 600 million francs in the third quarter from Credit Suisse's Swiss Universal Bank.
In Spain, Banco Santander SA is passing the costs of negative rates on to some corporate clients and may have to include institutional customers if the environment persists, CFO Jose Garcia Cantera said in an interview.
Central banks around the world are reducing interest rates in response to slowing economic growth, but Europe is particularly hard hit because the region has experimented with negative rates for several years. The ECB and its peers in Denmark and Switzerland sought to stimulate growth by charging banks to deposit funds, rather than lending to consumers or businesses.
The impact on banks depends in part on how they're funded. Lenders in Germany and other countries where deposits are a key source of funding are taking a bigger hit than those in France or the Nordic region, where market financing is more common, according to Carola Schuler, an analyst at Moody's Investors Service.
Not all executives are critical. Jean Pierre Mustier, who leads Italy's UniCredit SpA, says that on balance, low and even negative rates help by stabilizing economies. Italian banks, sitting on Europe's biggest pile of soured credit, get an added benefit: Lower funding costs reduce losses on those portfolios, according to Schuler at Moody's.
"In net terms, we can say that low interest rates have been a positive," Mustier said at a conference in Madrid last week. "People can criticize negative interest rates but nobody recognizes the effect it had to bring growth above a certain level. The problem now is we have lower rates for longer."
While all lenders profit from the stimulus provided by central banks, the direct cost of negative rates is hard to overlook, and the relief on offer doesn't change that. The ECB's rate-tiering system, which exempts a portion of the money parked at the central bank from its -0.5% deposit rate, will result in an annual saving of roughly 4 billion euros in total for the region's banks. Deutsche Bank will save more than 100 million euros a year on funds it deposits at the ECB.
"That is a help to the underlying revenue picture, but it's against the backdrop of the challenges that negative rates presents for banks and the industry," said von Moltke.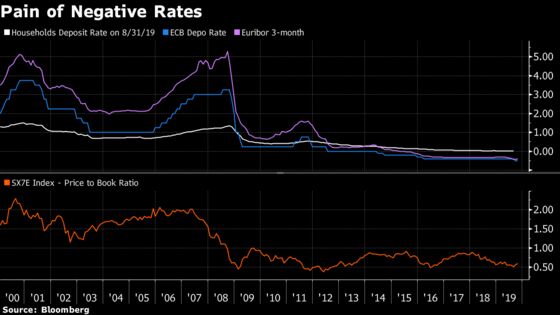 Even banks that aren't as exposed to charges on deposits are under pressure because of low rates. Executives at Barclays Plc, one of the U.K.'s biggest lenders, warned last week that declining interest rates combined with "economic softness" will make it harder for the firm to meet current profit targets. HSBC Holdings Plc, the U.K. bank focused on Asia, embarked on its biggest overhaul in years this week after profit missed estimates and it warned of lower interest rates, slowing economic growth and geopolitical uncertainty.
A day later, at a conference in Saudi Arabia, interim CEO Noel Quinn decried the policy of pushing down interest rates and wondered what was "the path out" for European banks.
"It's very hard to run a financial institution in an environment of negative interest rates," said Quinn. "Europe particularly has challenges and I can't see a ready solution for that in the next year or two or three."