Bankers Can Only Dream of Deals With Reluctant Tech Tycoon
(Bloomberg) -- Jack Dangermond spent his entire career ignoring the capital markets.
The advantage of this approach was on full display last month, on a day when tech titans like Jeff Bezos and Mark Zuckerberg lost almost $33 billion, as the Nasdaq Composite Index dropped the most in more than seven years.
Dangermond, ensconced in the leafy Redlands, California campus that houses his closely held mapping company, Esri, hadn't even noticed. "Are markets down?" he said. "I don't follow them."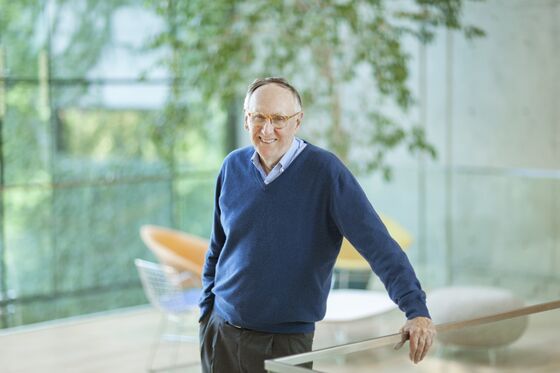 His indifference underscores the unique way he runs the company he founded with his wife, Laura, almost 50 years ago. It has grown to be one of the country's most successful -- if least well-known -- tech firms. Revenue at its U.S. unit is poised to climb 9 percent to more than $1 billion this year, Dangermond said. The overseas operations, in which he holds minority stakes, are expected to generate in excess of $500 million.
Esri, which stands for Environmental Systems Research Institute, has garnered little attention in part because Dangermond has never tapped the markets and shuns venture capital, debt and paying regular dividends.
The Dangermonds say they have no plans to ever cash in on their stake, which the Bloomberg Billionaires Index estimates is worth more than $6 billion. Jack Dangermond disputes this analysis, saying they aren't billionaires because Esri isn't run as a financial entity and shouldn't be valued as one. While that may befuddle bankers, he said the approach has been critical to their success.
"People are always interested in acquiring our company or our assets, but they don't really understand what Esri is," said Dangermond, 73, insisting he has no plans to retire or sell the firm. "Most companies chase revenue and profitability so that they can pay their stockholders dividends. One of the key secrets of this company is we reinvest our money back into it."
That approach has made Esri the leader in geographic information systems, providing advanced mapping tools that help governments, companies and nonprofits.
Despite Esri's low profile, its impact on modern civilization is far-reaching. State, local and federal governments are its biggest customers, accounting for about 55 percent of its U.S. revenue. If you've ever gone to a Super Bowl, ridden a bicycle in New York or taken a flight, chances are Esri played an invisible role in the placement of security checkpoints, bike lanes or the gates where your planes park.
Esri helps United Parcel Service Inc. optimize delivery routes, saving the courier $400 million annually, according to Dangermond. Oil companies use it to decide where to drill. Law enforcement and national security agencies deploy it to manage security threats. The World Health Organization relied on Esri maps and technology to coordinate a response to an Ebola outbreak in West Africa in 2014 and 2015.
The bespectacled Dangermond is an unlikely rock star in the GIS world. Two wide-eyed visitors to the Esri campus grabbed him for a photo as he strolled through the cafe, and the company's annual conference in San Diego attracted 18,000 visitors last year.
"The GIS market is almost $3 billion in sales and Esri commands over 40 percent of market share," said Andy Chatha of ARC Advisory Group, a research firm that specializes in the technology market. "They are the dominant player."
It's an expensive market to rule. Each year, the company spends about $350 million on research and development. That's funding the creation of software that can incorporate and analyze thousands of inputs in real time, such as traffic levels gleaned from roadside sensors.
That kind of spending might elicit grumbling from shareholders of public technology companies. Alphabet Inc., Amazon.com Inc. and Apple Inc. invest about 15 percent, 13 percent and 5 percent of their revenues on R&D, respectively, according to a PricewaterhouseCoopers report.
Esri's investment approach is an extreme example of how family-owned companies can differ from their publicly traded peers, particularly when they don't need to tap the debt or equity markets.
"There are big differences in time horizons and perspectives," said Charles Lowenhaupt, chief executive officer of Lowenhaupt Global Advisors. "A family business can and does look at periods from five years to over 100 years. They're a huge part of the economy but can be hard to get a handle on, especially if they're not borrowing money."
Dangermond certainly didn't rely on debt -- except for the $5,000 that his mother loaned him and Laura as they started out. They rented a typewriter, copier and set up shop in his hometown of Redlands, about an hour's drive east of Los Angeles.
"For a long time it was hand-to-mouth," Laura Dangermond said. "I didn't get a salary for years."
The turning point came after about a decade of consulting and project work, when clients started to ask if they could buy the mapping software.
The Dangermonds continue to follow their own path, paying employees by the hour and avoiding commission-based compensation even for sales staff. Nor are they overly concerned about the prospect of deep-pocketed rivals such as Google parent Alphabet someday taking a renewed interest in their niche.
"They have more money than South America," Dangermond said. "So they could do anything they wanted, but we have faced, over these 50 years, many, many competitors."