Bank Ratings Get Sex-Equality Revamp, Exposing Nordic Edge
(Bloomberg) -- A bank's credit metrics may soon rely more on how seriously it views equality between the sexes, according to DBRS Morningstar.
The ratings firm says a clear focus on gender diversity puts lenders in a better position to live up to the environmental, social and governance goals that investors increasingly demand. And it's a category in which Nordic banks are already ahead, DBRS says.
"Nordic banks have certainly made significant progress in improving gender diversity, in part through actionable and measurable internal policies," Elisabeth Rudman, head of the European financial institutions group at DBRS, said in an emailed response to questions. "Other European banks could learn from the actions they have taken."
Two of the six women running Europe's biggest banks are in the Nordic region, at DNB ASA and Svenska Handelsbanken AB. And Norway and Sweden, where those lenders are based, boast the highest ratios of women in boardrooms, according to DBRS.
The diversity advances at Nordic banks are positive both for their franchise and reputation, Rudman said.
Some of the world's biggest investors have made clear gender diversity isn't just a fad. Norway's $1.3 trillion sovereign wealth fund, which owns 1.5% of the world's stocks, wants the companies it owns to have at least 30% of their board positions held by women, it said this month.
And there are signs that companies are starting to listen. Women held 22 more seats on the boards of companies in the Standard & Poor's 500 Index in January than in December, marking the biggest increase in almost two years.
But the financial services industry still has a lot of work to do, according to Daniela Peterhoff, a partner at Oliver Wyman. A report by the consultancy firm shows that banks in Sweden, Finland and Norway top the global average in terms of the number of women in top management roles at banks. But men still outnumber them two to one.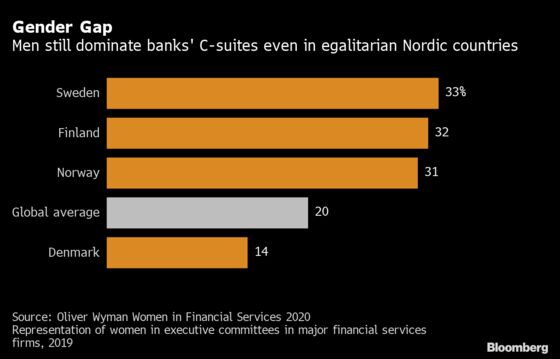 "The situation is never good enough before it's 50-50, to my mind," said Peterhoff, head of EMEA corporate and institutional banking. "Executive teams, where women are represented take more balanced decisions."