Bank of Thailand Holds Key Rate, Lets Fiscal Policy Lead
(Bloomberg) -- Thailand's central bank held its benchmark interest rate steady at an all-time low as fiscal measures take the lead in reviving the economy amid a renewed outbreak of Covid-19.
The Bank of Thailand kept the policy rate at 0.5% Wednesday in a unanimous decision, its sixth straight hold. Twenty-five of 27 economists in a Bloomberg survey predicted the decision, with two expecting a 25-basis point cut.
Assistant Governor Titanun Mallikamas said the central bank was preserving its policy space for the proper time, but was prepared to use additional monetary tools and was assessing the need for new measures in the foreign-exchange market.
"They still keep the door open to further easing if required. That said, they don't have much room, at least on conventional rates," said Mitul Kotecha, senior emerging markets strategist at TD Securities in Singapore. "It highlights that they are increasingly focusing on liquidity and macro-prudential tools."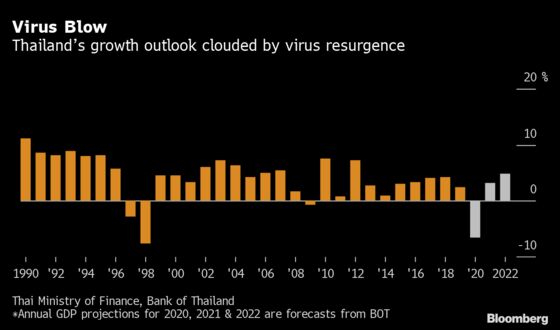 The country's benchmark stock index was up 0.1% as of 3:24 p.m. in Bangkok, paring gains from before the rate decision. The baht made up some earlier losses and was down 0.1% against the dollar.
What Bloomberg Economics Says...

"We still believe the BOT has reached the end of its rate cut cycle and will lean on other tools to support growth as needed in 2021... Recovery is drawing nearer and more robust with every Covid-19 jab. What's more, the jump in debt burdens last year makes rate cuts less effective. Additional rate cuts are also unlikely to stem baht gains should risk appetite rise in tandem with the global recovery."

-- Tamara Mast Henderson, Asean economist
Thailand's Covid caseload has more than tripled since a fresh outbreak began in mid-December. The Finance Ministry last week cut its 2021 gross domestic product forecast to 2.8% growth, from the 4.5% it predicted in October, to account for the outbreak and new government stimulus measures.
In December the central bank cut its own GDP outlook for this year to 3.2%, and has signaled it may need to revise it lower still.
Titanun said stimulus and exports offer some support to the economy. Still, he said GDP may grow less than forecast due to the outbreak and the likelihood that tourist arrivals will miss already lowered expectations.
"The economy continues to face downside risks going forward and needs support from a low interest rate," he said. The central bank "preserved its limited policy space to use at the right timing with the most effective impact."
The government unveiled a series of stimulus measures last month, including $7 billion in cash handouts, to counter the outbreak. Prime Minister Prayuth Chan-Ocha approved loosening restrictions from this week to allow businesses and schools to reopen.
The central bank is likely to stay on hold all this year, said Tim Leelahaphan, an economist at Standard Chartered Bank Plc in Bangkok.
"The current economic situation does not warrant a further rate cut yet," Tim wrote in a research note, adding that significant fiscal stimulus is also unlikely.
Other points from Wednesday's decision and briefing:
Monetary policy to remain accommodative
Baht movement has been in line with regional currencies. The monetary committee will consider whether additional measures are needed on the baht, and will continue to bolster a new foreign-exchange environment it recently implemented
Inflation, which was at -0.27% in December, should return to the lower end of the 1%-3% target range by the middle of the year
In the short term, economic recovery depends on restrictions imposed to curb the outbreak. In the medium term it will depend on vaccine distribution and the return of foreign tourists
Unemployment and underemployment may rise in the short term as the labor market is fragile