Bank of Korea Stands Pat as Trade Fights, Jobs Cloud Outlook
(Bloomberg) -- The Bank of Korea left its key interest rate unchanged on Friday as it weighed escalating trade battles and signs that Asia's fourth-largest economy may be losing steam.
BOK Governor Lee Ju-yeol said external risks were on the rise but that the economy was still on track to meet the central bank's growth forecasts. Lee noted upside and downside risks to growth, while saying inflation is still expected to rise toward the BOK's 2 percent goal later this year.
"The U.S.-China trade battle and sluggish jobs conditions are of course downside risks pressuring growth, while the government's aggressive fiscal policy and large investments by major companies are factors that could shore up the economy," he said.
The policy decision was widely expected following recent downbeat economic data. Lee has repeatedly said the BOK would keep policy accommodative to support the economy, but he has also cited financial imbalances and the need to increase room for policy responses to an economic downturn as reasons for a possible rate increase.
Some analysts said Lee left the door open for a rate hike later this year. Others said he sounded a bit more dovish.
"It seemed to me that the governor showed his willingness to leave some room for an interest rate hike later this year, and I think that was a signal," said Shin Eol, fixed-income strategist at Shinhan Investment Corp. Shin said he expects a hike in the fourth quarter.
One board member voted to raise rates on Friday, Lee said.
The South Korean won was 0.5 percent weaker against the dollar as of 1:06 p.m. in Seoul on Friday. The yield on 3-year government bonds fell 3 basis points to 1.95 percent, while the 10-year yield declined 2 basis points to 2.35 percent.
Speculation about a near-term rate increase had cooled since the BOK's last meeting in July, when some members argued for reducing policy accommodation. Job growth skidding to an eight-year low and the trade fight between the U.S. and China, South Korea's two biggest trading partners, had raised concerns about the outlook for the export-dependent economy.
In July, both the government and central bank trimmed their forecasts for economic growth this year to 2.9 percent from 3 percent. Finance Minister Kim Dong-yeon said last week that the government will use fiscal policy to address the nation's economic challenges, including "extremely difficult" employment conditions.
"If you look closely at the country's growth factors, other than exports, consumption and investment don't look too good," said Park Jeong-Woo, an economist at Korea Investment & Securities Co., adding that those factors were likely behind Friday's decision. The central bank is likely to keep rates unchanged throughout the year, he said.
Record household debt and surging property prices are among the concerns shared by policy makers in favor of tightening. Lee said Friday that financial imbalances need to be addressed, but the chance household debt becomes a systemic risk is low.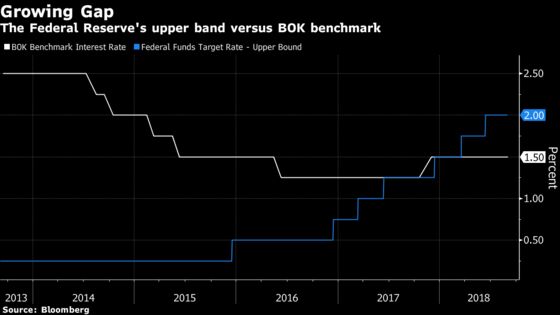 Some policy makers have expressed concern that the growing gap between benchmark rates in South Korea and the U.S. might fuel capital outflows, creating instability in Korean financial markets. The rate differential has widened to as much as 50 basis points, and could grow again if the Federal Reserve hikes in September as expected.
Park Chong-hoon, an economist at Standard Chartered Bank in Seoul, said Lee's tone sounded slightly more dovish, but that a combination of Korean fiscal stimulus and rising U.S. rates could prompt a rate hike by the BOK later this year.
President Moon Jae-in, who took office pledging to create more jobs and raise pay for average Koreans, is looking to stoke the economy with fiscal stimulus. The government this week proposed spending a record 471 trillion won ($420 billion) next year, with a goal of adding new jobs, raising the minimum wage again and prodding innovative growth
Consumer confidence fell in August to the lowest level since March 2017 -- when the country was rattled by a corruption scandal that saw former President Park Geun-hye impeached and imprisoned.