Bank of Korea Stands Pat as Doubts Mount Over Economy
(Bloomberg) -- South Korea's central bank left its key interest rate unchanged as the outlook for Asia's fourth-largest economy weakens amid falling exports, soft jobs growth and waning inflation.
The Bank of Korea kept the seven-day repurchase rate at 1.75 percent on Thursday, as forecast by all 26 analysts surveyed by Bloomberg. Most economists expect the BOK to leave borrowing costs where they are for the rest of year.
Inflation will remain below 1 percent for some time before moving into the mid-1 percent level later in the year, the central bank said in a statement. That's slightly weaker than the guidance given in January, while economic growth for 2019 should still be about 2.6 percent, according to the BOK.
Governor Lee Ju-yeol said the board was unanimous in its decision Thursday and that current policy supported the economy. He added that exports have been falling in value terms, dragged down by falling prices for semiconductors, but that the volume of shipments has sustained a small increase.
"It is still not the time to review the possibility of a rate cut, and current policy continues to be in the accommodative range," Lee said in a briefing. "Sometimes, the financial markets overreact to movements in the real economy."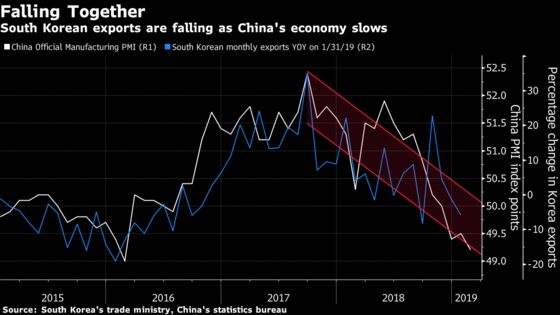 South Korea's won was steady at 1,119.40 per dollar as of 12:35 p.m. in Seoul. Three-year government bond yield rose 1 basis point to 1.82 percent while the yield of 10-year bonds gained 2 basis points to 2.01 percent.
The central bank has said previously that economic indicators suggest the prolonged trade dispute between Washington and Beijing was already having a negative impact on South Korea. Lee said on Thursday that it was difficult to predict the outcome of U.S.-China talks and that the level of external uncertainties for the economy was very high.
"Overall it seems that the BOK is worried, but not yet swayed by the recent weak data domestically and globally," said Trang Thuy Le, a macro-strategy analyst at Macquarie Bank in Hong Kong. "Further deterioration is likely needed to drive a cut."
Korea's jobless rate hit the highest level in nine years in January while exports tumbled in early February, due to a sharp drop in shipments to China and lower semiconductor prices. Inflation in January slowed to 0.8 percent -- less than half the BOK's 2 percent target.
What our economist says ...
"The BOK is set for a long pause through year-end," said Bloomberg Economics' Justin Jimenez. "A rate cut is unlikely, barring a severe downturn, in our view, with looser fiscal policy likely to support the economy."
 
--For more, see our KOREA INSIGHT.