Decision-Day Guide: Bank of Korea's Rate Decision Gets Trickier
(Bloomberg) -- The Bank of Korea faces growing pressures for an interest rate hike -- and for standing pat -- as it meets to set policy on Thursday.
Eleven of 18 economists surveyed by Bloomberg News in the past week forecast the BOK would leave its seven-day repurchase rate at 1.5 percent. The rest predicted a hike to 1.75 percent.
Governor Lee Ju-yeol has sounded slightly hawkish for a while, and recently reiterated that policy accommodation should be reduced to address financial imbalances such as record-high household debt. He also said the central bank would more closely monitor the widening U.S.-Korea rate gap to prevent capital outflows.
"The BOK's stance for a rate-hike seems very strong and it's only a matter of timing, whether in October or November," said Park Chong-hoon, an economist at Standard Chartered Bank in Seoul.
Another factor supporting a rate increase: inflation ticked up in September to 1.9 percent, just below the BOK's 2 percent target.
The central bank usually announces its rate decision at about 10 a.m. in Seoul, followed by a policy statement that includes brief assessments of the economy and inflation. Lee will offer additional details at a press briefing scheduled for 11:20 a.m., and provide updated full-year forecasts for growth and inflation.
Yet nearly a year after the BOK raised its benchmark from a record low, another rate hike is still not a cut-and-dried case. A move now could sap more momentum from an economy that's started to lose steam, while adding to households' debt-repayment burden. Job growth has also slowed sharply. Lee hinted earlier this month that the central bank may lower its forecasts for economic growth and inflation from its July predictions.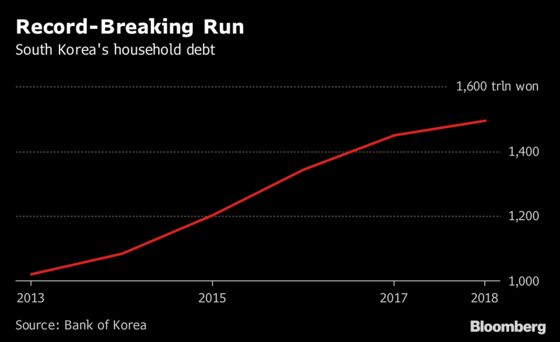 Last week, the International Monetary Fund lowered its forecast for 2018 growth in Korea to 2.8 percent from 3.0 percent. It also cut its 2019 GDP outlook to 2.6 percent from 2.9 percent.
The won's recent weakness against the dollar and foreign selling of local shares have also sparked rate-hike expectations. While economists are divided, the interest-rate market sees a quarter-percentage point rate hike by the end of the year as almost a foregone conclusion.
Rising U.S. rates already appear to be prompting outflows from Korea. Foreign investors bought a net $1.46 billion in local shares in August, but in October they've sold a net $1.79 billion so far, according to Bloomberg data.
The won has lost 1.5 percent against the dollar this quarter, making it one of the worst performing currencies in Asia after the Indonesian rupiah. The currency traded as strong as 1,128.15 against the dollar Wednesday after hitting a one-year low last week.
Whether the BOK raises rates this month or not, economists expect its rate-hike cycle to be short-lived compared to previous ones.
"October or November, that will likely be a one-time event for this year and no further upward cycle is likely at this stage," said Stephen Lee, an economist at Meritz Securities Co. in Seoul, who predicted economic growth of 2.5 percent next year.
"The economy will further deteriorate into 2019 and it may even breach below the potential growth level. It will be even more difficult for the BOK to justify the rate increases next year."